Modern organizations understand that their most important asset is their people. That's why HR and Human Capital Management play a more strategic role in business success than ever before.
To fully leverage the power of HR, companies need an end-to-end approach that interlocks valuable HR data to provide employees with the best possible experience. In our experience, an end-to-end HR solution must cover at least these 5 fundamental components:
Microsoft business applications offer companies a good foundation for adopting an end-to-end HR strategy. When you combine them with Web Apps from FourVision and additional solutions from our partners, you turn that good foundation into a great one, with efficient, time-saving functionalities that streamline everyday processes throughout your organization. Here's a look at some of the possibilities.
How does Microsoft help you adopt an end-to-end HR approach?
HR is the starting point and the finish line of any employee's experience with your company. "From hire to retire", each employee relies on their HR file to serve as their passport for any HR administrative task.
The unique thing about Microsoft Dynamic 365 HR is that the employee's HR file can be attached to their employee account which they use to log into any application in the Microsoft ecosystem. This connects HR data to every aspect of the employee's experience. And it offers many advantages for employees, HR and the entire organization:
The employee enjoys a seamless employee experience: with one login, they can access all the Microsoft applications they're authorized to use in your company's ecosystem. That includes business applications like Dynamics 365 and Office 365, as well as cloud hosting via Azure, extensibility via the Power Platform, and ultimately the integrated end-user experience.
The employee's profile only needs to be set up once (by HR), which saves time and eliminates the risk of errors.
HR, Finance and other departments can now share workflows, which improves efficiency and boosts collaboration.
The employee's authorizations are controlled centrally, which increases IT security.
Which HR features does Microsoft Dynamics F&O support?
The HR module of Microsoft Dynamics 365 F&O gives you lots of useful out-of-the-box HR functionalities that support your employees throughout their career at your company. These include features for organizational management, employee self-service, compensation & benefits, leave & absence and more.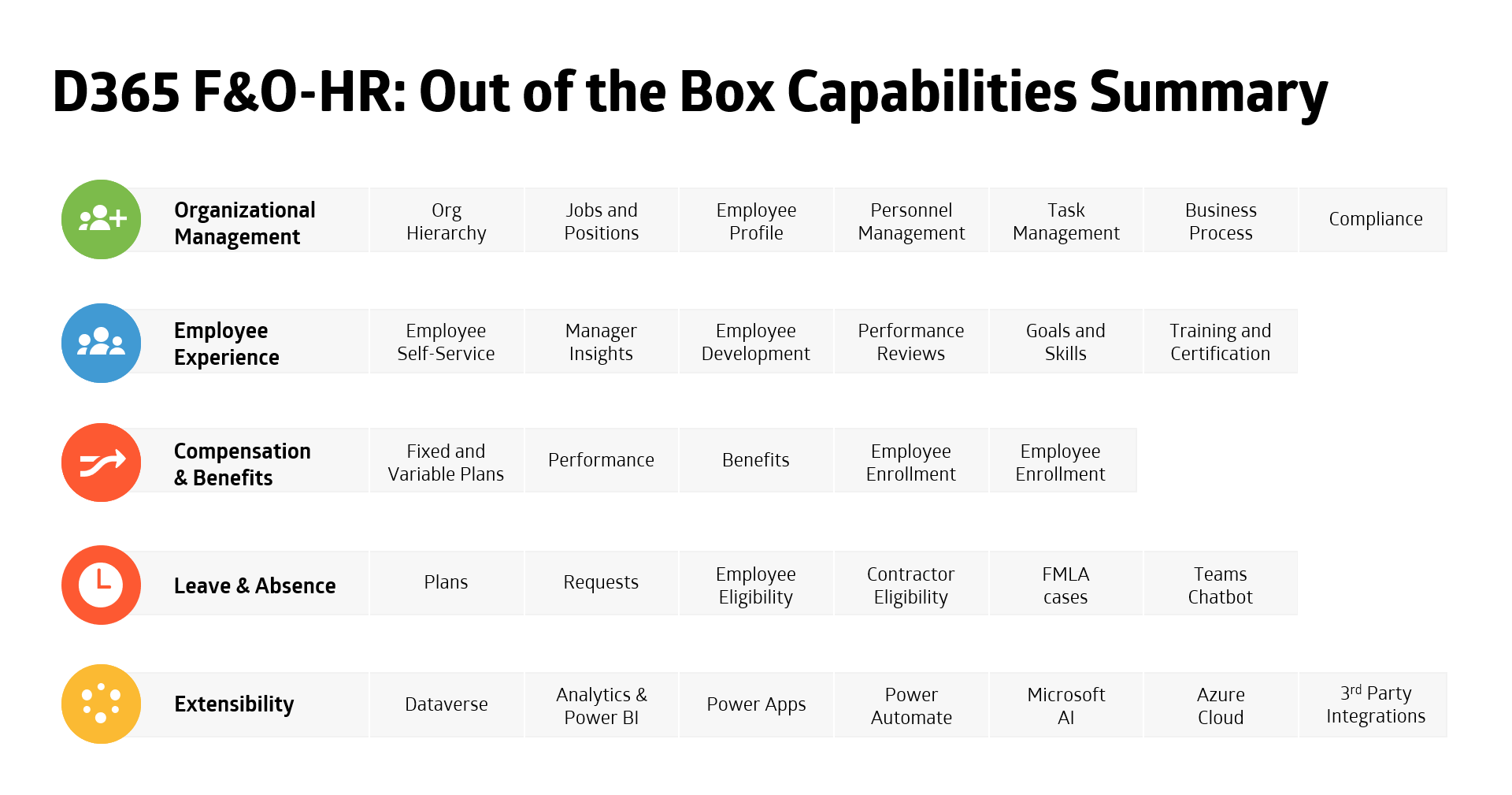 The core setup can also be extended with custom integrations like these:
Assisted support and case management from D365 Customer Service
Talent and learning systems, including the option to integrate LinkedIn Learning
Talent acquisition tools, like integrations for LinkedIn Talent Hub and LinkedIn Recruiter
Analytics and feedback tools, like Workspace Analytics, Microsoft Forms Pro, Glint by LinkedIn and Power BI.
Turning your Microsoft ecosystem into an advanced end-to-end HR solution
FourVision is a Microsoft Gold partner. With over 15 years of specialization in HR technology, we are Microsoft's largest partner with a focus on the HR module of Microsoft Dynamics 365 F&O. We develop Web Tools for Microsoft Dynamics that add functionalities to support the full spectrum of HR roles.
Our Web Tools let you turn your existing Microsoft HR stack into the most end-to-end HR solution on the market.
Here's how we do it: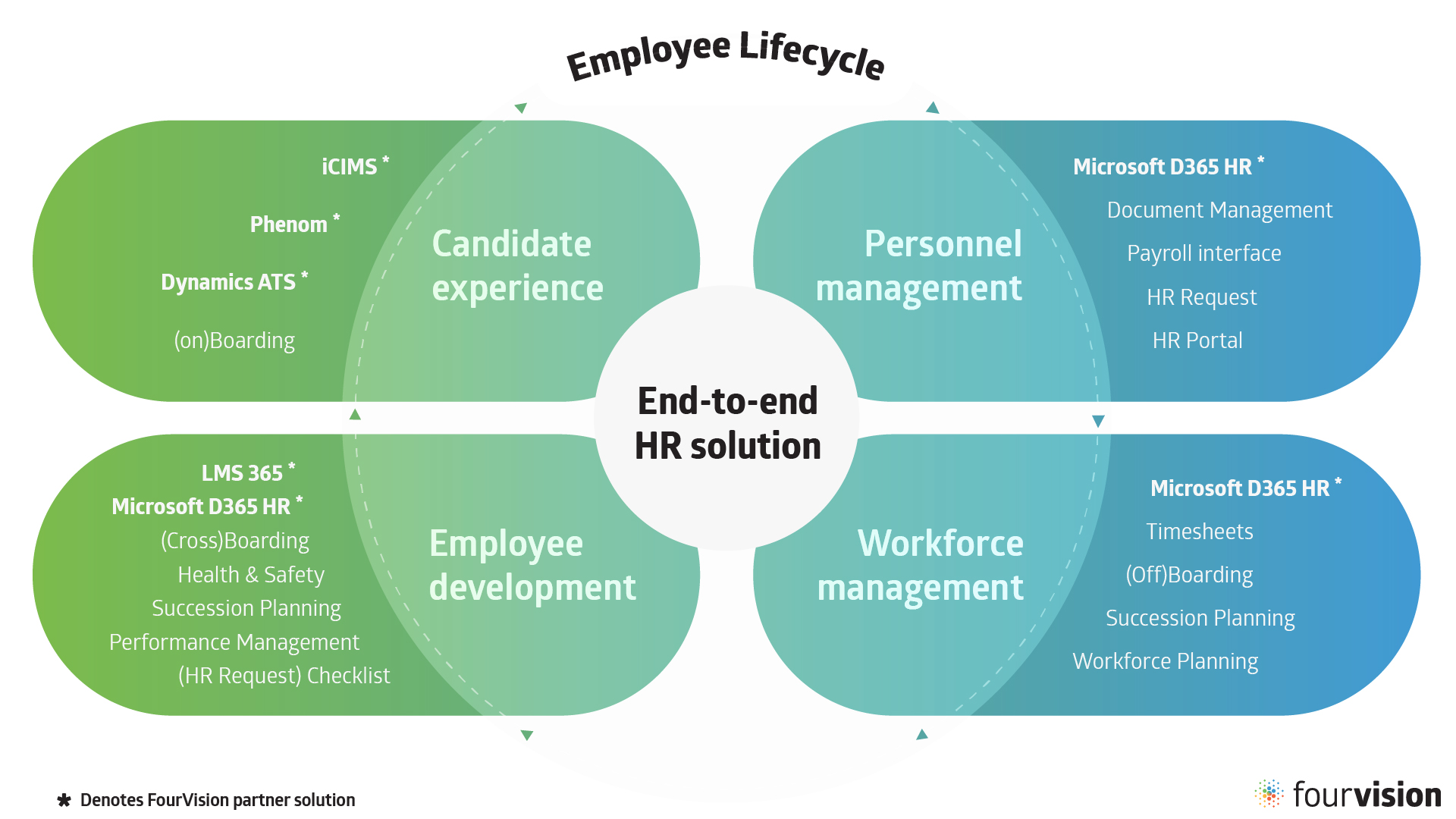 For each stage of the employee experience (Candidate Experience, Employee Development, Personnel Management and Workforce Management) plus Analytics, we offer specialized Web Apps that expand and reinforce the HR features that Microsoft Dynamics offers.
For example, since most Microsoft Dynamics users also use a third-party payroll system, our Payroll Interface lets you fully integrate and synchronize your payroll application with your HR system. It gives you a secure cloud-based interface where you can access employee payroll data. This makes it faster and more efficient to manage payroll.
Another great example is our HR Request Web App. This is an all-in-one tool that structures, collects, redistributes, and monitors all HR requests within your organization. It gives everyone a single, easy-to-use dashboard to submit HR requests and monitor their progress. This results in a more efficient, more transparent HR experience for your employees, which enhances their employee experience.
Meanwhile, FourVision works with Power BI, the business intelligence solution from Microsoft, which turns all the data collected from your business applications into actionable insights. This helps you automatically spot inefficiencies in your processes, so you can continually improve the way you operate.
With tools like these, you leverage the full potential of your Microsoft ecosystem and create a true end-to-end HR solution—one that puts employees and HR at the heart of your company's success.