We structure, relieve, and streamline your HRM processes. We are a Global company with a local character, and we believe 'It Starts with You!'
Our headquarters are in Arnhem, in the east of the Netherlands. We have spent the past decade building our international reach and have since opened offices in India and the United States. Our skilled team is spread out all over the world, which means that there is always a trained implementation consultant, or one of our partners, close by to support your company's needs.
We have seen numerous complex business cases over the past decade and established our Best Practice Approach by listening to you. This allows us to implement the best organized and user-friendly HR solution to suit your needs. Together, we will make your organization successful for the future.
We are always eager to keep innovating and help you achieve your goals for the future of your company. We are committed to creating solutions that reflect our passion for people and drive for technology; helping you reach your full potential.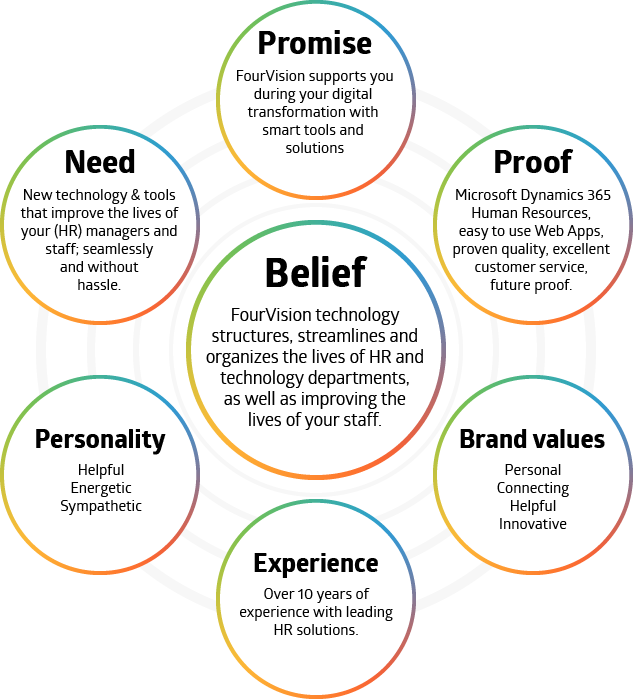 The world of Human Resources Management is always changing and so is the technology that can support it. That is why we have created our vision on how to communicate clearly and, above all, consistently to keep up-to-date with the latest support constructions. We call this our BrandVision.
Our BrandVision is indicative of our story, core values, manifest, corporate identity, target groups, and ambitions. We pride ourselves on being at the forefront of our field and create relevant content that aligns with your business strategies.
By combining Microsoft technology with FourVision innovation, we create high-end HR solutions that increase employee satisfaction, efficiency, and profitability, and ultimately your cultural and financial viability.
We work together with you, creating solutions that suit your organization, culture, and people, by enhancing Microsoft tools and technologies. We take on both an advisory and a guiding role to support you during your digital transformation.
FourVision was founded in 2008 by two men; Bert Stegeman and Peter Wolbeek. Both armed with a vision and passion. One of them specializing in HR and the other in Technology. Together, they worked hard to create HR-related IT solutions that empower and enrich the lives of workforces across a variety of business industries and they continue to do so to improve the lives of workforce today.
Today, we have grown into a global Microsoft partner with a passionate and skilled team and continue expanding our company throughout the (IT) world.

Bert Stegeman
CCO and Co-founder
Peter Wolbeek
CEO and Co-founder
Pankaj Mishra
Director India
André Arents
Medior Developer
Edward Moll
Principle Product Engineer
Mustafa Khan
Senior Implementation Consultant
Ulf Jonsson
Project Manager
Ingrid Jeurissen
Project Manager Officer
Ali Nawaz
Integration Consultant
Sachi Kaveri
Medior Consultant
Carlos George
Managing Consultant
Alroy Lawrence
Project Manager
Hunain Sami
Integration Consultant
Baqar Iqbal
Medior Consultant
Elif Guclu
Implementation Consultant
Harm Arens
Project Manager
Jeanette Taylor
Medior Consultant
Biljana Grbic
Project Management Officer
Ferial Shahab
Project Manager
Daniel Reader
Managing Consultant
Julia Curuana
Senior Consultant
Jennifer Lepper
Senior Consultant
Kate Bush
Program Manager
Pinar Sardar Yetim
Managing Consultant
Max Schiffelers
Customer Success Consultant
Menno Smits
Head of Client Services
Chris Coolen
Senior Consultant
Jolanta Kortenkool
HR Manager
Britt van de Weerd
Learning & Development Manager
Leo Gardien
Financial Controller
Oksana Ajzensjtark
Accountant
Alejandro Gutierrez
Sales Executive
Jason Fellows
Partner Success Manager
Bhabagrahi Sahu
Pre-Sales Consultant
Christian Hendriksen
Multimedia Content Specialist
Marijn Bieleveldt
Digital Marketing Lead
Bert Stegeman
CCO and Co-founder
Tamara Liscaljet
Medior Support Consultant
Mehmet Yusuf Atli
Technical Support Engineer
Hans de Jong
Product Owner
Flora Haveman
Senior Support Consultant