Transform and Optimize Digital Human Capital Management Processes
We are ready for the future, are you? We can lift your company into the future and streamline your HR processes, making backlogs a thing of the past. The Web Apps are easy to implement, fully integrated into the Azure Cloud environment and specifically designed to transform your HR processes into one single efficient workflow. This will structure and streamline your workforce and relieve your HR department of a lot of stress.
Our solutions structure, relieve, and streamline your HR processes
Explore the possibilities with Dynamics 365 Human Resources
Transform Employee Experiences
Foster employee connections with rich personal profiles that include career accomplishments, skills, certifications, and personal interests.
Enable self-service to let employees handle their own profile updates, training, performance-tracking, and time-off requests.
Empower managers with team performance data, helping optimize team impact and tackle immediate concerns.
Help employees grow with training and certification tracking. See your team grow and employees learn by adding to LinkedIn learning or Dynamics 365 Guides.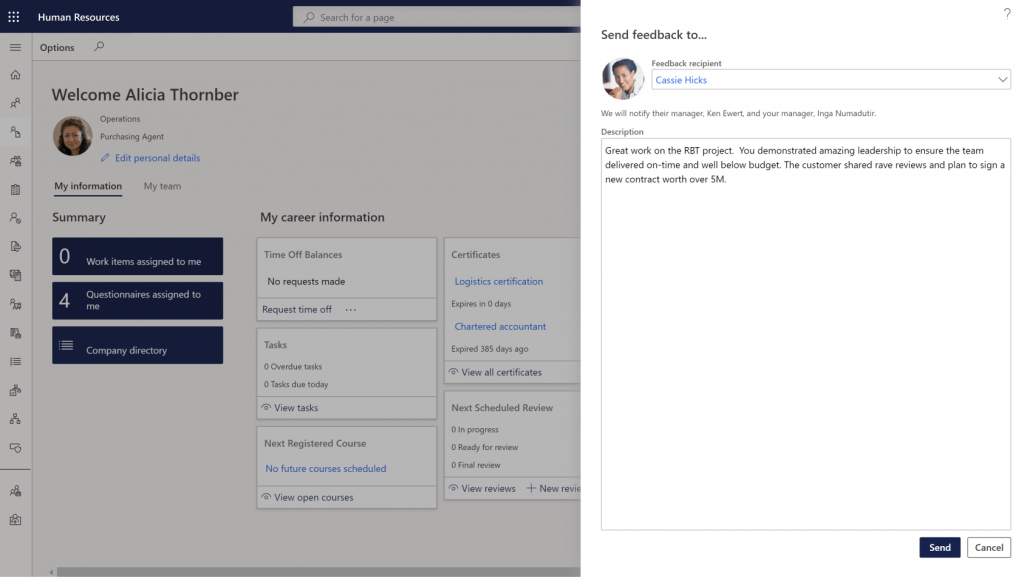 Increase Organizational Agility
Reduce organizational complexity with administration that accurately reflects your organization's structure, hierarchy, and job descriptions per position.
Improve productivity and efficiency with automated processes, workflows, and task management.
Drive business performance through the security, privacy, and compliance that comes with building human capital management on Microsoft Azure.
Personalize your solution with a configurable interface that allows you to add or hide fields, change layouts, and easily share necessary information with others.
You can increase the capabilities of Dynamics 365 Human Resources with the seamless integration of our Web Apps for the the Microsoft Power Platform.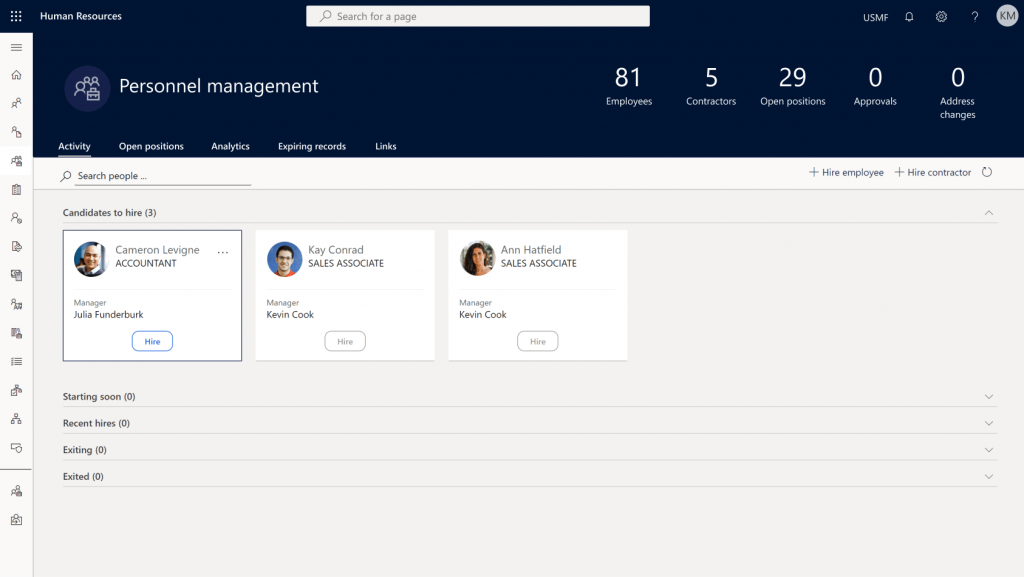 Optimize your HR solution
Simplify leave and absence reporting by creating compliant and competitive programs that meet changing global regulations, such as FMLA and ADA.
Create compensation programs based on predefined guidelines which you can easily adjust, either individually or collectively, to automate company-wide roll-outs.
Redefine benefits administration with flexible and personally configurable self-service tools that allow for benefit groups, hierarchies, flexible credits, and auto-enrollment.
Deliver payroll, budgets, and tax filings to third party payroll solutions via our payroll connector.
Find and engage the right talent for your organization through LinkedIn Talent Solutions, Dynamics ATS, or the Talent Experience Platform to manage your end-to-end recruitment and hiring experience.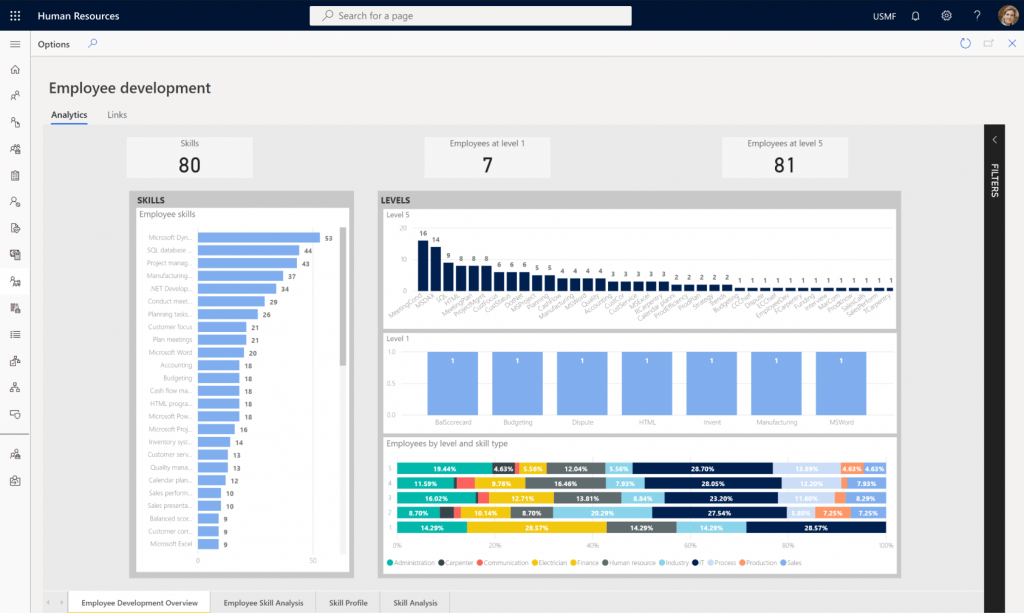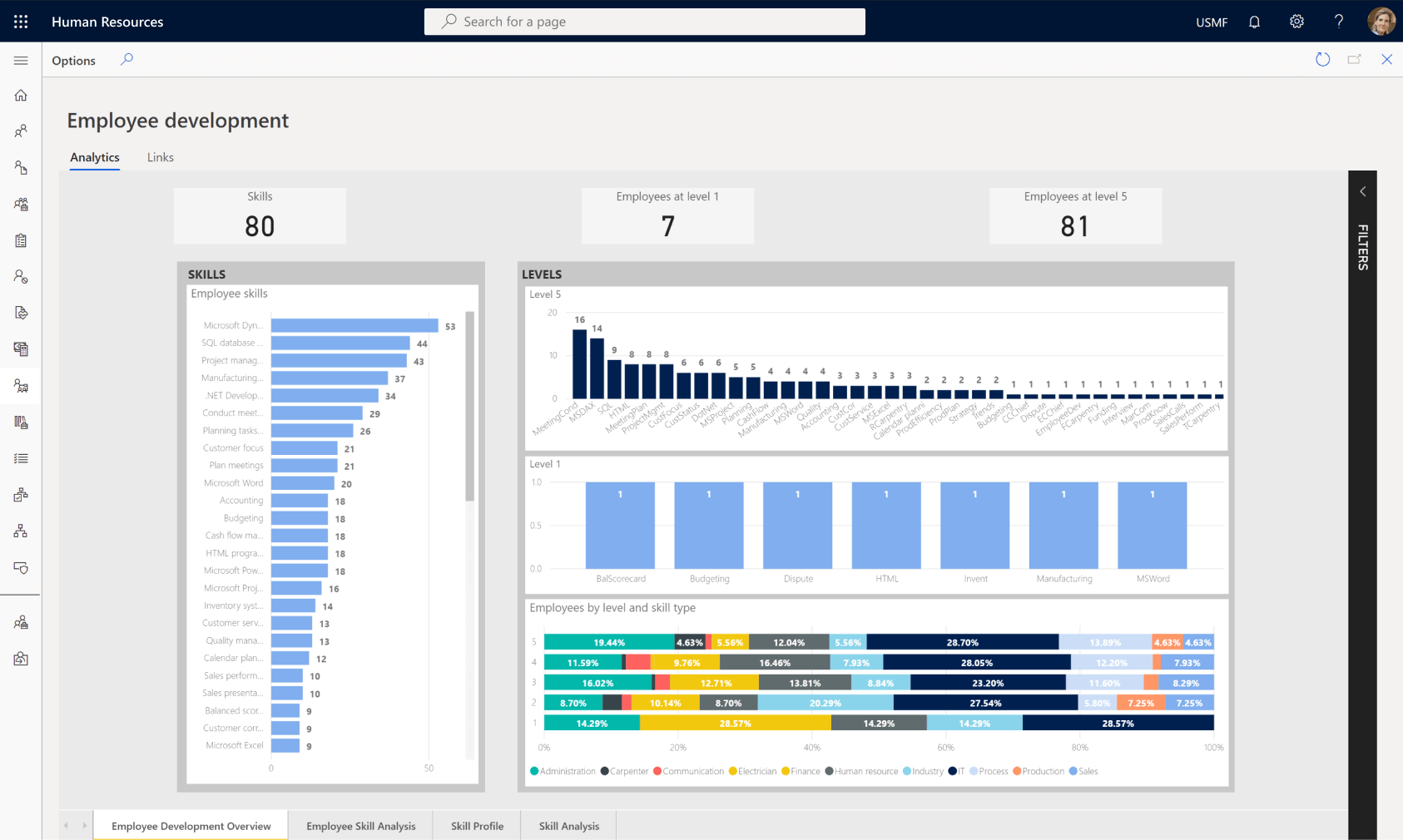 Discover workforce insights
Improve workforce planning with informative dashboards from Microsoft Power BI which will help you bring together, analyze, and visualize all of your human resources data from any device; desktop or mobile.
Make confident decisions with embedded analytics that track and analyze your HR system.
Reduce complexity by using the Common Data Service (CDS) to centralize data and seamlessly integrate Dynamics 365 Human Resources with existing systems and additional partner applications.
Create a collaborative work environment using Microsoft Forms Pro's survey insights to measure employee satisfaction.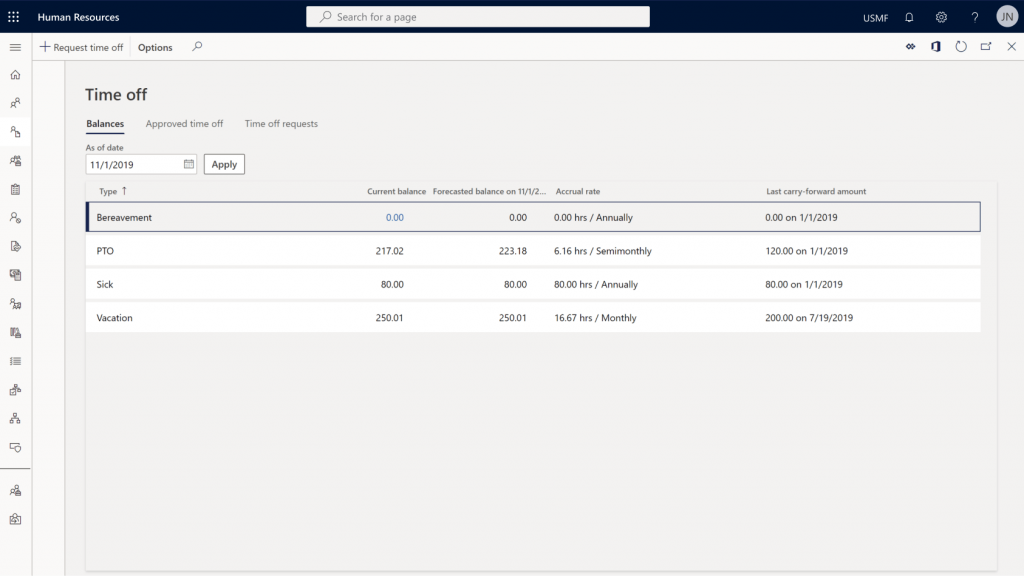 Do you want to know how we can help you prepare your organization for the future?
Why choose Dynamics 365 Human Resources?