A big part of our business is to continuously work to enhance the capabilities and functionality of our products. We have to stay on top of the latest trends and innovations; always able to meet the demands and requests of our customers.
Through this live blog post, we will keep you informed on the latest updates and newest releases that increase the functionality of our Web Apps even more.
Product Update: Thursday October 21, 2021
New update coming in! This time about making the integration even better between our Document Management and HR Request WebApps.
Documents transfer
Any document that you attach to an HR Request at the moment, stays in the app. So, if you have an hiring form with documents attached to it, for example, these documents stay in HR Request.
But, actually, you might need these documents to be stored and secured in Document Management for GDPR reasons. Let's say you have a passport scan connected to an hiring form. You should have it also in document management because of the mandatory retention period of 4 years you have for such a document.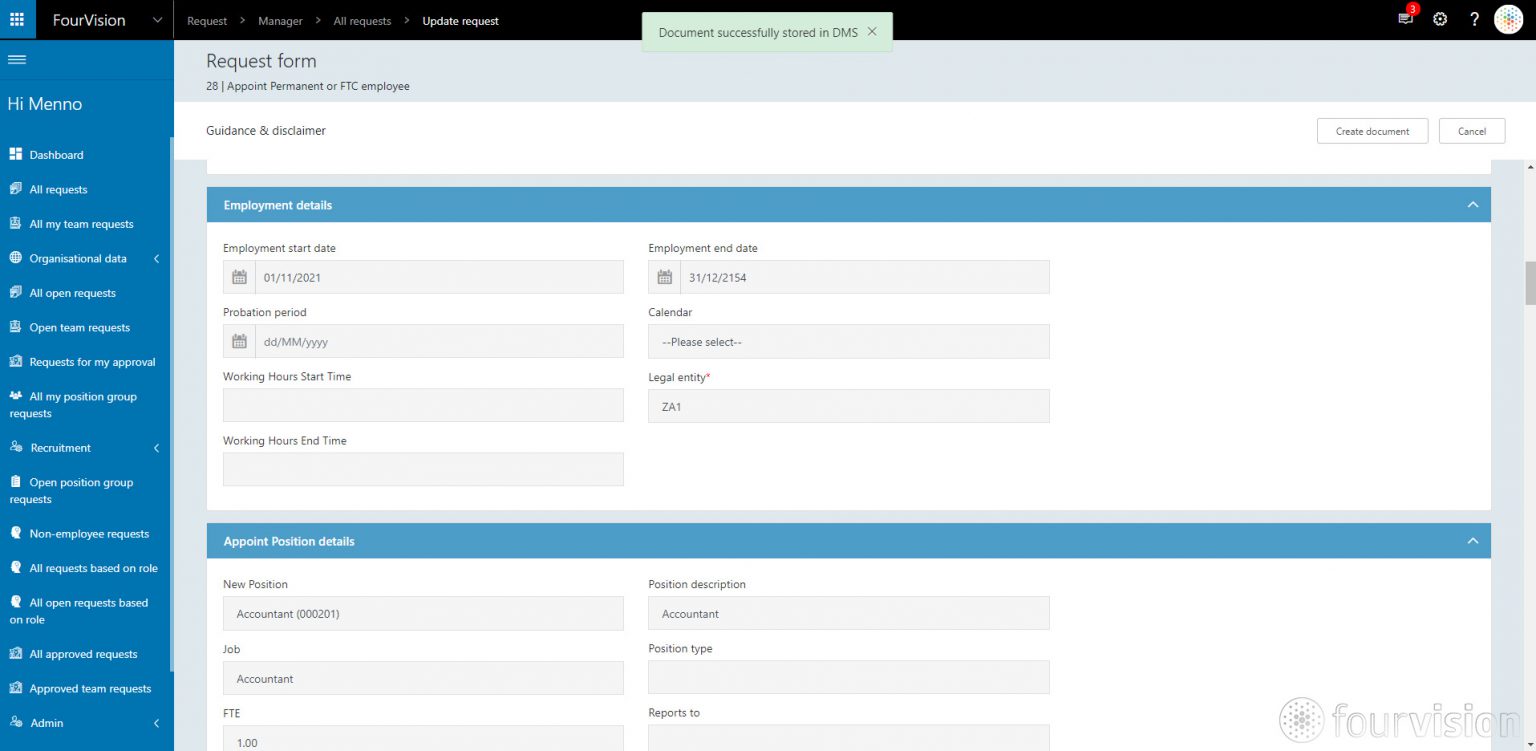 This was the thinking behind our decision to extend and develop the connection between HR Request and Document Management, so there's an automated transfer of documents between the two apps.
Triggering document creation from HR Request
Another step to extend the integration between apps, as discussed in the previous topic, is the creation of new documents in the Document Management app through HR Request.
Once you have an hiring form completed in HR Request, you can now transfer it to Document Management to automatically create a document with all the necessary information pre-filled. A great example of this would be Offer Letters.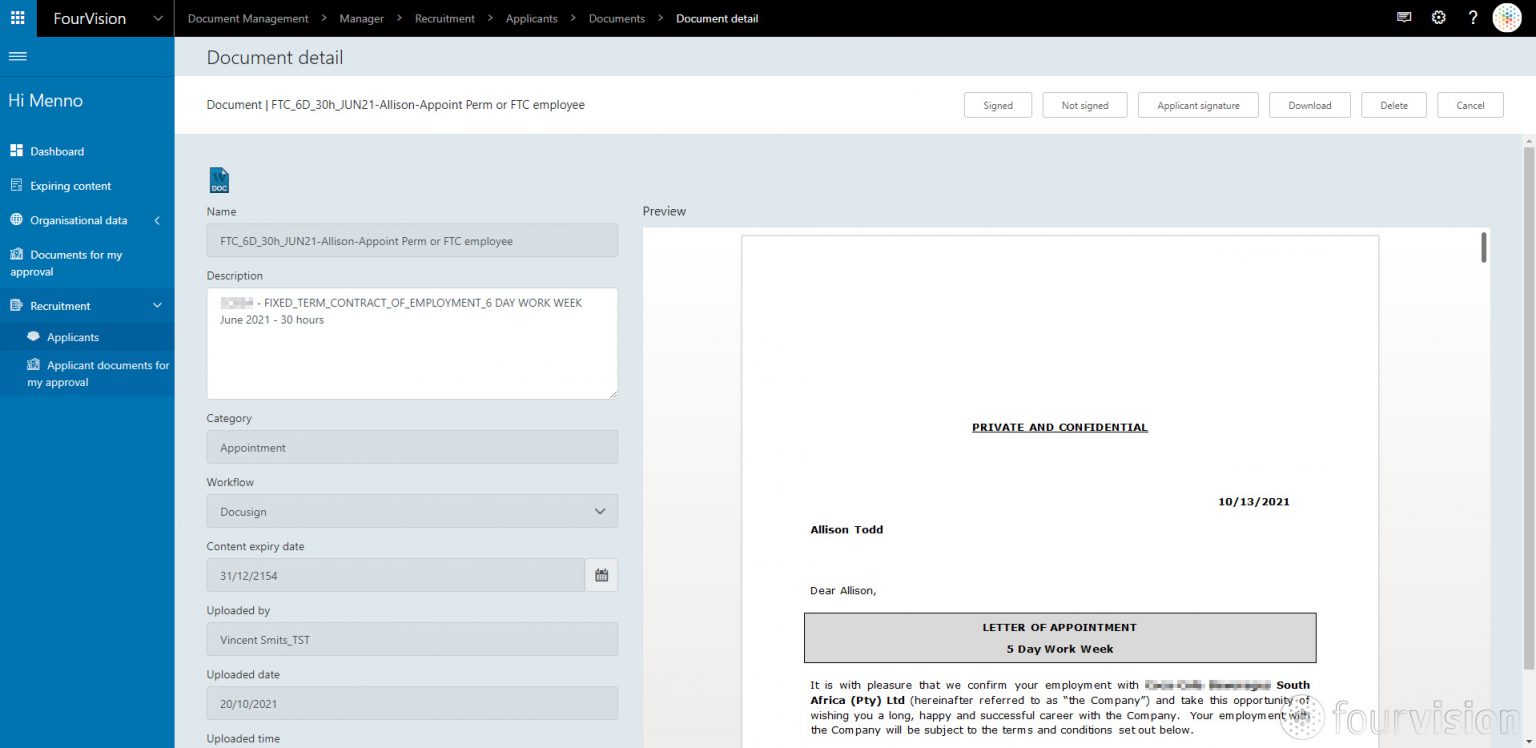 HR Request is just the first app with this functionality. Next, we'll add this feature to the Onboarding app as well, transferring important documents from onboarding guides to Document Management.
Product Update: Tuesday August 17, 2021
This time, we have four great developments to share with you.
WebApps embedding feature on Dynamics 365 HR
In a continuous effort to give a better experience to the users, we embedded the access to our WebApps, seamlessly, through the dashboard of Dynamics 365 HR.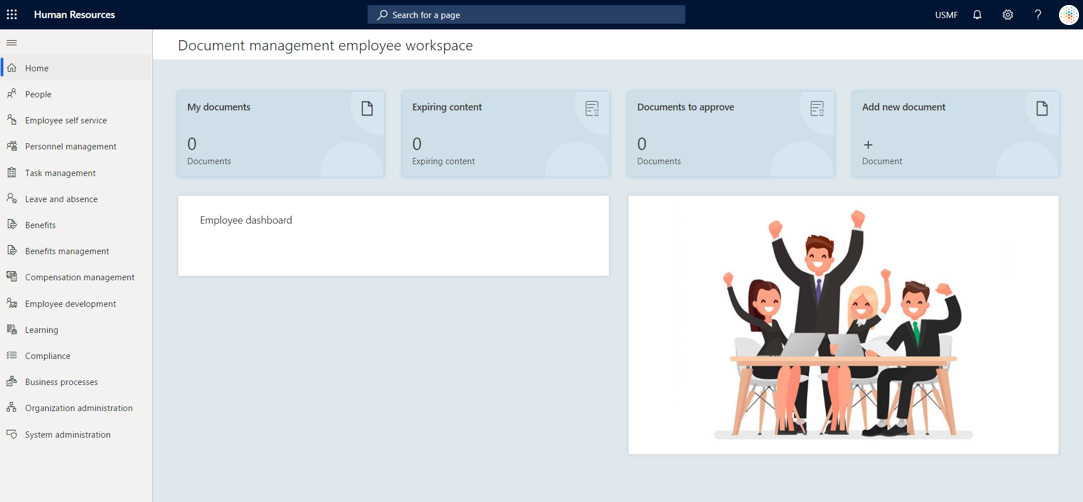 To do this, we removed the menu bar on the left side, so now you don't get any more double menu items. Document Management is the first app with this fully implemented and the remaining WebApps will follow.
The overall experience just got better! Now there's no need to type the URL to access Document Management. Just click and access it from the Dynamics 365 HR dashboard.
Interactive organizational chart
On Microsoft Teams, the Organization tab shows the org chart for your company, so when you're having a one-on-one conversation with someone, you can see who they report to and who reports to them. You can also search for other people while you're there to see where they appear in the chart.
Now, that will be available as a feature in our WebApps. Starting with our Boarding app and being rolled out to the other ones.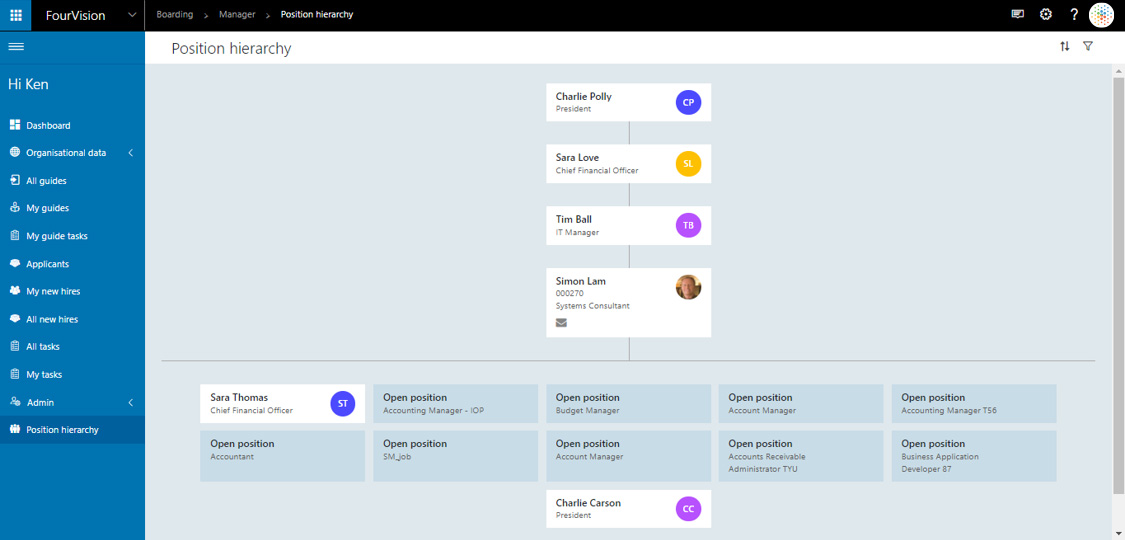 Connection between HR Request and recruitment systems
When you decide to push the hiring button of a new employee in your recruitment system, that will now trigger an applicant table in HR Request. That table will prefill a hiring form and start registering the new employee in the system. No extra steps needed, no double entering of data.
This feature is under development with a current customer, soon to be deployed as a out-of-the-box functionality.
Best practice data will be available soon
Starting with Performance Management, we are developing a set of Demo Data to be available for all purposes within our WebApps management.
It is in line with the Contoso data set from Microsoft and it will be available to load after you set up an environment.
This will allow our consultants and partners to use the same data set to build scenarios for the clients, making it easy to notice errors, needed improvements and share ability through a best practice approach.
We're at 70% within Performance Management, starting now with Timesheets and slowly rolling it out to other apps.
Product Update: Tuesday June 8, 2021
Only one development feature to share with you this time, but a very exciting one!
Performance Management – Course Catalog
Performance Management is not only about setting goals, evaluation and feedback, but also about training and employee development. So, it only made sense that we looked into adding more functionalities to our Performance Management WebApp.
A lot in line with what the Microsoft VIVA Learning platform will do within Teams, we're looking to display a course catalog inside our Performance Management WebApp.
The courses will be pulled from different content providers such as LinkedIn Learning or Coursera, but personalization will be its strongest feature. How? The course selection for each user will be based on the skill gap data that the app gathers from its usage. And then, the managers will have the chance to personally curate the automated selection.
Additionally, a generic table of contents and skills involved with each course will also be pulled into the system, so the user knows beforehand what he/she is getting into. 🙂
Keep in mind that this is an ongoing development and might not be the final solution. As soon as it's live, we'll give you a proper overview.
Stay tuned for more updates in this live post and feel free to reach out to us if you'd like to know more.
Product Update: Thursday April 22, 2021
Today we have four exciting features/projects to share with you. Let's dive right in!
HR Portal
Don't tell anyone, but we think this one will be a game-changer. The HR Portal is still a work in progress but our tests are getting very good feedback already. And what is this HR Portal? Basically, it will be an overlayer for both Microsoft's HCM/HR module and our web apps that will bring everything together.
In the portal, managers and employees will be able to find anything related to HR in the organization. All your HR needs in one place. Sounds promising?
We'll share some examples of how it looks like soon, so keep an eye out for that.
Global Task List feature
This feature started by being included in the Boarding web app but can now also be triggered from the HR Request web app. It consists in a global task list triggered by events in the whole HR system.
Example: If you request a new position to be filled in the HR Request web app, a new task or set of tasks will be triggered based on the creation of that new position. Things like "Make access pass", "Organize welcome meeting" could be a couple of examples of those tasks.

Referring to the previous point, we intend to link this Task List to the future HR portal so you can work on it right from there.
The Global Task List is already available and functioning on the on the Boarding and HR Request apps but will soon be available on the Health & Safety and Performance Management apps too.
And, as a last note, we're also working in extending this functionality to provide alerts and an "escalation" feature for when someone goes on vacation while having an uncompleted urgent task. But more on this later…
Document management retention
For us, document management should be more than just a "storage space" for all your HR related documents. The system should work for you and not the other way around.
In that logic, you can now set retention times for specific documents in our Document Management web app. And that can be based on the type of document, legal entity or even time-based.
Example: An international company that has subsidiaries in different countries has different laws to comply regarding keeping employees' documentation. Now, based on the legal entity or the actual location or country, you can set retention times per type of document.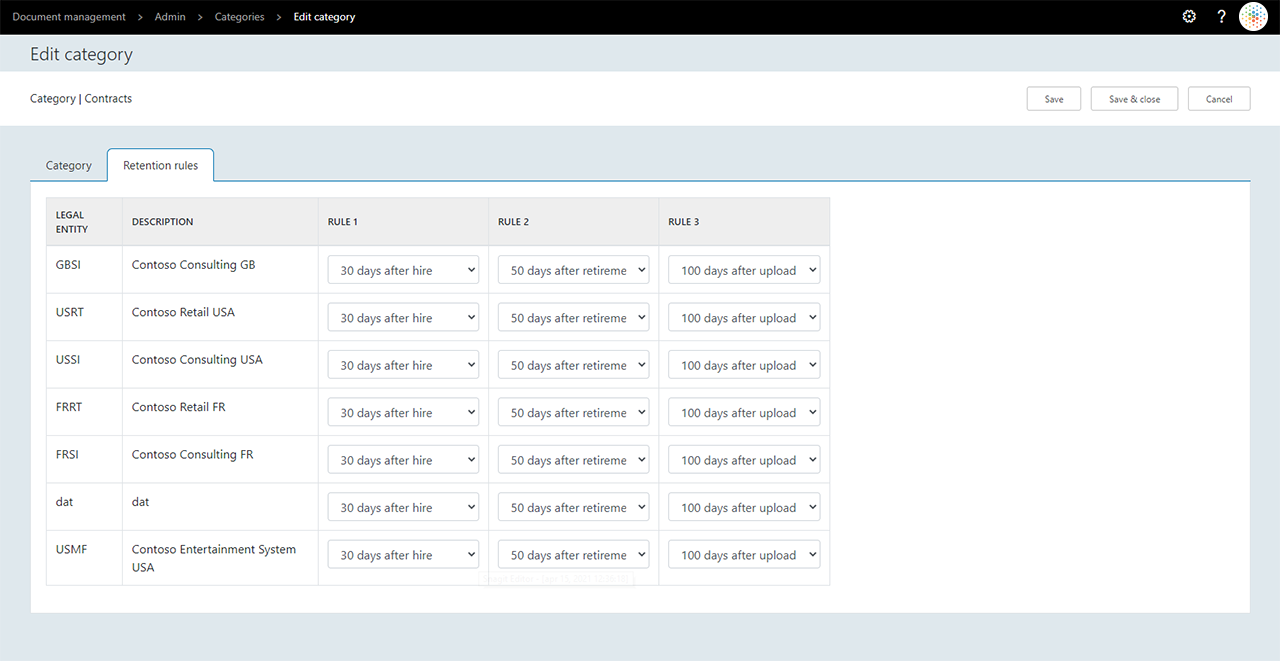 Have you ever worried about what are the documents you can or cannot delete? The ones you should and should not keep? With this new feature you can do it from the start. Automate the deletion of documents or set notifications for when something can be deleted.
Performance Management – Improved dashboard
We realize that data visualization is something very important. So, we take our web apps dataflow seriously and always want to improve them.
This time we are working on a way to display the relevant information for decision-making on workforce planning: How many employees does a department have? How many positions are there? What are the skills available in that department and what's the skill gap there? And what are the certificates that you or the employees own in that department? Are there any certificates expiring in that department?
Now, all this information is at a glance in a tile display that can be found in our Performance Management web app.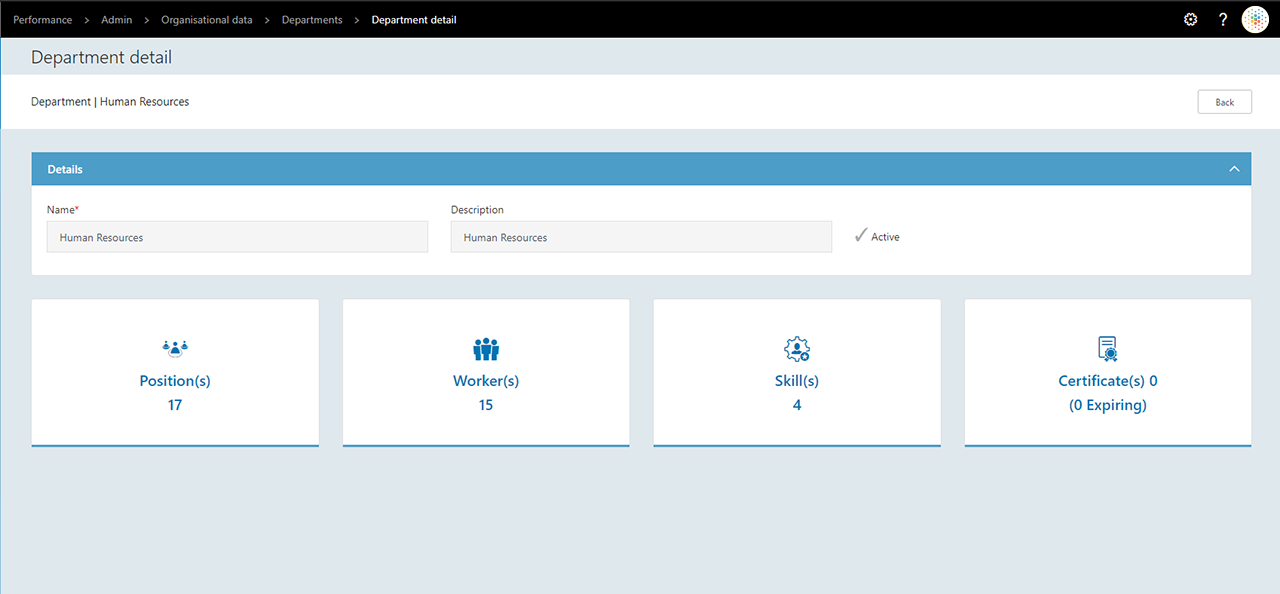 This is the first step to get the system to work for you instead of having you look for the relevant information.
Next step we're looking into is related to skill gaps. If a skill is missing in a giving department, you will be able to click on that skill and see which training you'll need to obtain that skill.
Stay tuned for more updates in this live post and feel free to reach out to us if you'd like to know more.