In today's competitive business landscape, organizations strive for excellence, seeking ways to achieve their goals, boost productivity, and retain top talent. At the heart of this pursuit lies the practice of performance management, a dynamic process that empowers companies to drive individual and collective success.
Performance management encompasses a range of processes designed to enhance employee performance, align it with organizational objectives, and foster a culture of continuous improvement.
You'll already know this if you're an HR professional, of course. You'll also probably know about the Microsoft Dynamics 365 platform and how much of a powerful, priceless tool it is for managing human resources (HR) processes.
Does Microsoft Have a Performance Management Tool?
Yes, Microsoft Dynamics does have some native performance management functionality. It is somewhat limited, however, and many HR professionals find that it's not enough to meet their needs.
To enable HR professionals to benefit more from Microsoft Dynamics 365 Performance Management, FourVision has developed a range of advanced performance management features for Microsoft Dynamics 365 via Web Apps—our proprietary solution that increases the capabilities of your D365 deployment.
Key Differences Between FourVision Performance Management and Dynamics 365 HR
Here's a quick overview of the main differences between FourVision Web Apps and Dynamics 365 in the context of performance management.
| | |
| --- | --- |
| FourVision Performance Management | Microsoft Dynamics 365 |
| Performance tracking enhanced by visibility into employee performance over time against key metrics. | Performance journals must be created and managed manually; no automation and prone to becoming outdated. |
| A variety of customization options enable managers to build comprehensive custom forms that fit their workflows. | No real custom for building functionality; users are restricted by what's available natively in vanilla Dynamics 365. |
| Automated calculation of merit increases achieved via employees' performance scores and other data. | Merit increases must be managed manually, with manual data entry and slow approval workflows. |
| 360-degree feedback with questionnaire functionality for groups, direct reports, and other smart filters. | Feedback must be manually sent by employees; cannot be requested by managers from within the platform. |
Performance Management Similarities Between Web Apps vs Dynamics 365
Before we dive into how FourVision Web Apps differs from Microsoft Dynamics 365 when it comes to performance management, we're going to take a look at the similarities.
Measurements are virtually identical between the two. The same options that you'll find in Dynamics 365 are in Web Apps, including amount, date, percentage, quantity, and rating model. Performance periods are also unchanged, with options including ad hoc, annual, quarterly, half year, and full year; there's was no need to reinvent the wheel here!
The functionality for review types is also identical between the two tools and includes appraisal, budgeting, and coaching. FourVision Web Apps users do have the added benefit of being able to create custom forms, however.
Review templates, known as PDR in Web Apps, are also similar. Templates are available for things like annual reviews, weekly discussions, and periodic check-ins, just as they are in Dynamics 365. In Web Apps, however, users have the option to include additional sections such as mobilities, professional development, operational portfolios, and custom forms.
While there are many similarities between the two, the Performance Management Web App—as we will explore—offers many additional features that enable enhanced talent management and a more comprehensive overview of employee development because of the availability of more data.
Performance Management Differences Between Web Apps vs Dynamics 365
There are two major areas that are different in Web Apps when compared to Dynamics 365:
Weightage Calculations, Objective Categories, Objectives & Measurements
Behaviors and Goals
We have what are known as 'Behaviors' in Web Apps. Behaviors are used to define traits such as 'Good communicator', 'Customer focused', or 'Accountability' and link them to PDRs.
Unlike in Dynamics 365, behaviors can be custom defined by managers and assigned on an individual, role, and group bases depending on organizational requirements. A 'Consultant' role, for example, might have the following behaviors assigned to it:
Accountability
Become company smart
Brave
Customer focused
Good communication
By having behaviors assigned to groups, it's not necessary to find and assign specific behaviors to each employee. This level of functionality is not possible in the Dynamics 365 platform and is an example of how Web Apps help to streamline performance management.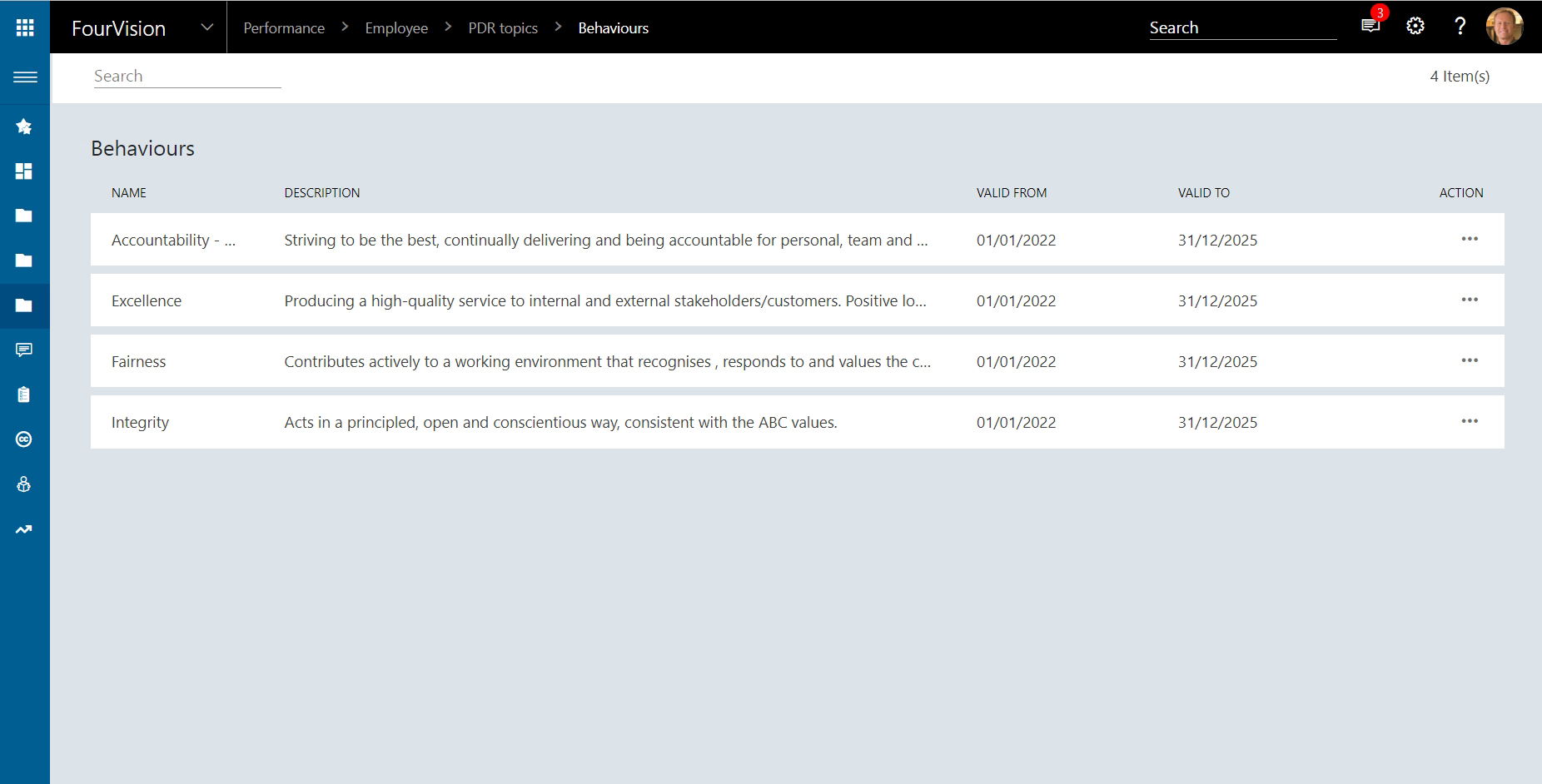 Weightage Calculations, Objective Categories, Objectives & Measurements
Dynamics 365 users will be familiar with the simple weightage calculation. While useful, the Performance Management Web App takes this to the next level with three different types of weightage calculation on:
The objective category.
The individual objective.
Combination of individual objectives with measurements.
Having three separate weightage calculations means that managers who are using Web Apps can, again, benefit from having more data available to them. This makes it much easier to see performance on given objectives, review performance over time, and gain a more accurate insight into how individual employees are doing.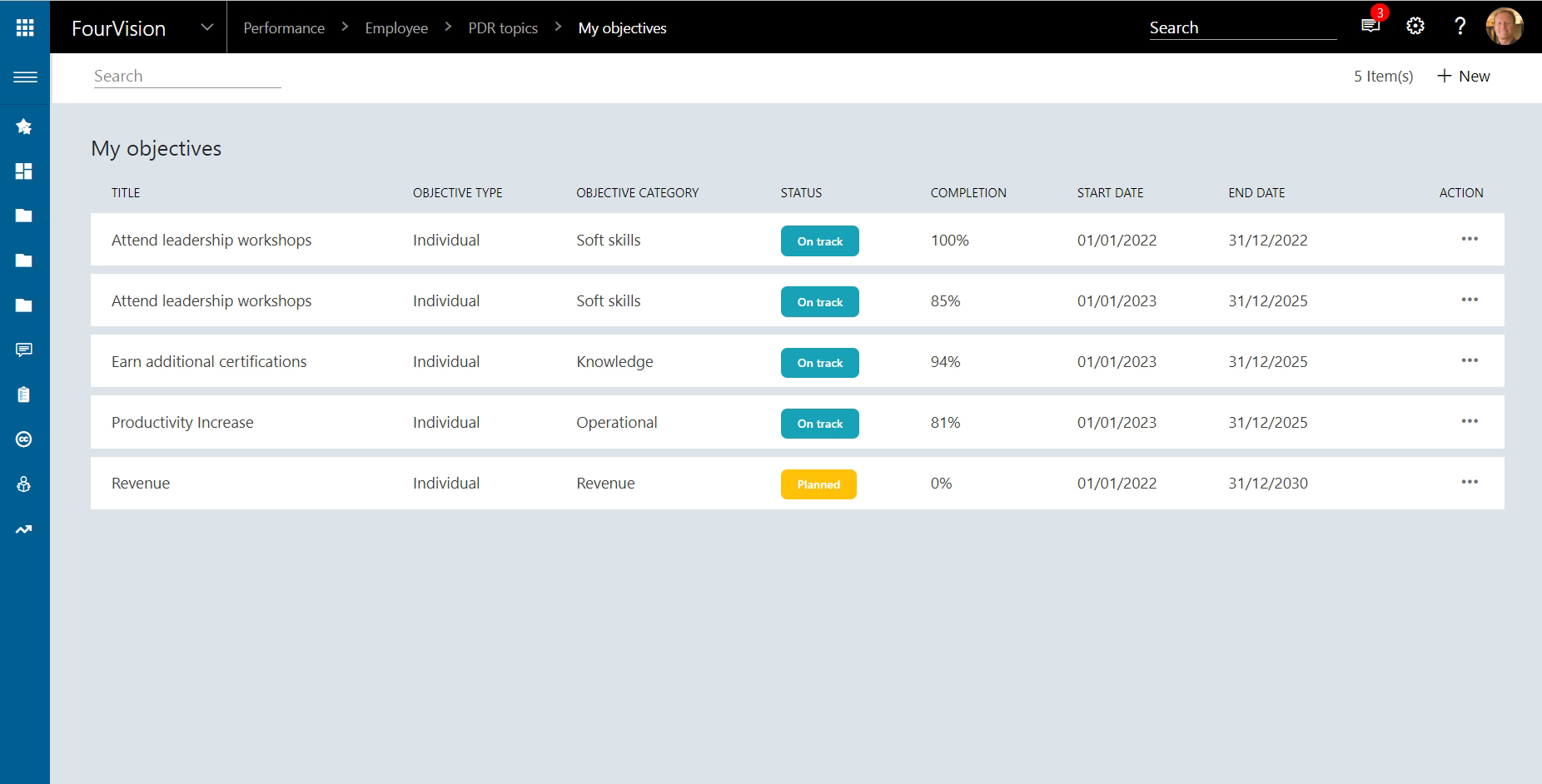 Advanced Performance Management Features for Dynamics 365
Custom Forms
Custom form functionality is unique to FourVision Web Apps; this is not an option in Dynamics 365. Managers can choose from a variety of customization options to build forms that fit their workflows, with field types that include attachments, checkboxes, ratings, text fields, and tick boxes, and attach them to performance reviews, development plans, and PDRs.
The inclusion of custom forms adds a whole new level of usability to your Dynamics 365 deployment, allowing you to include forms in career development plans for advanced employee data collection, and monthly reviews where managers have requirements for information to be submitted by employees on a monthly basis.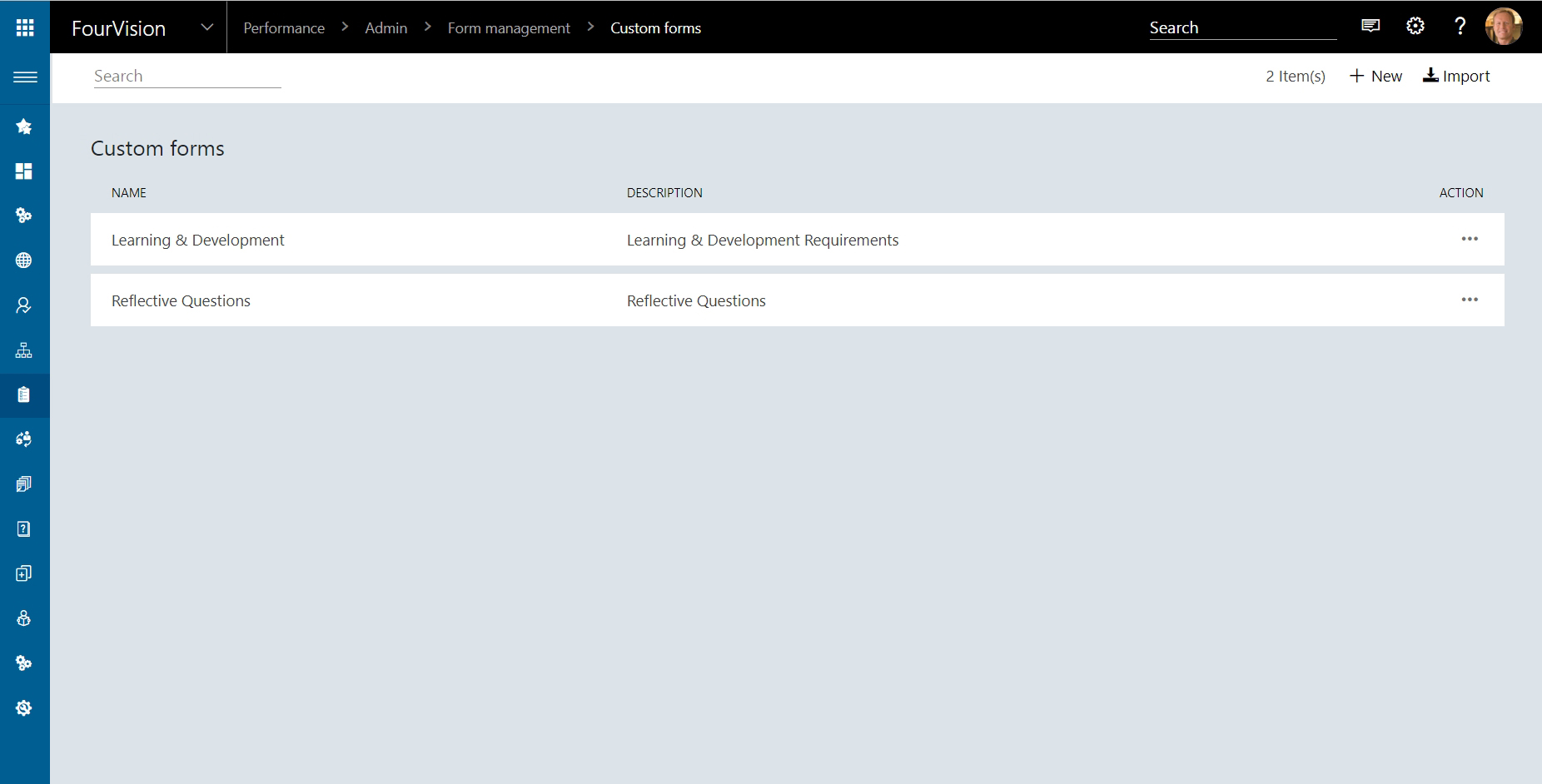 Dashboard Configurability
The dashboard in Performance Management is much more user-friendly than the native Dynamics 365 dashboard. All menu items are expressed as tiles, and users have the option to set chosen tiles as their favorites. This massively simplifies navigation and reduces the amount of time it takes to get from A to B when compared to Dynamics 365, where the dashboard is relatively cluttered with several navigation options.
Users also have an overview of PDR records, objectives, and tasks all from one screen for streamlined workload management, with PDR records and objectives having the option to be filtered by teams.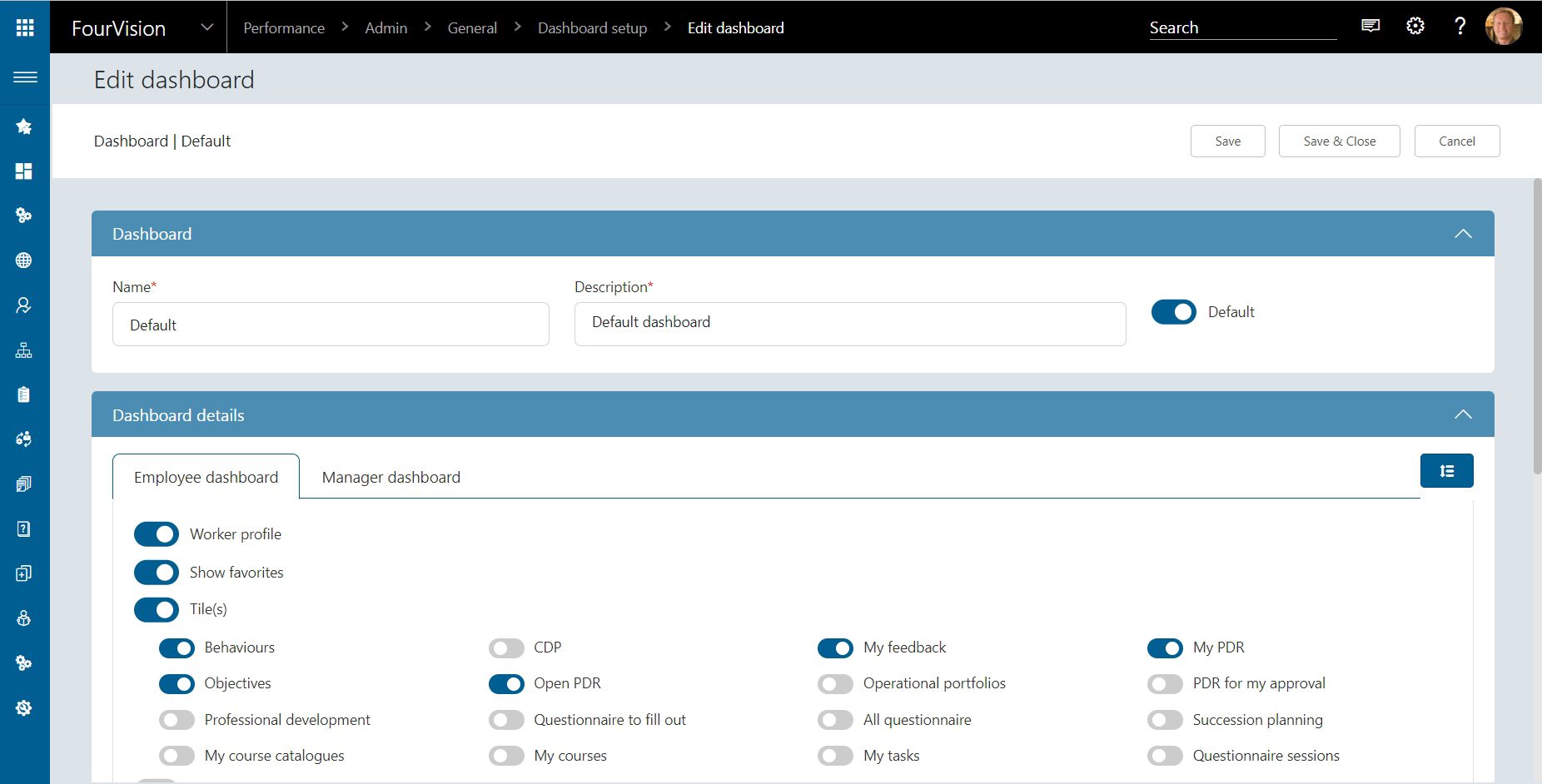 Advanced Questionnaire Functionality
The FourVision Performance Management Web App makes it easier than ever for managers to collect 360-degree feedback in a way that's not possible with vanilla Dynamics 365.
Questionnaires in Web Apps are very easy to configure and use. It is similar to our custom form functionality but includes additional features such as the option to enable anonymous answers, and send it externally to individuals outside of the organization such as customers.
Managers also have the option to send questionnaires in bulk. For example, instead of having to select individual recipients, managers can now select groups of recipients based on smart filters, like department, location, and direct-report manager.
Questionnaire results can be analyzed directly inside Performance Management, giving managers a clear overview of each employee's performance.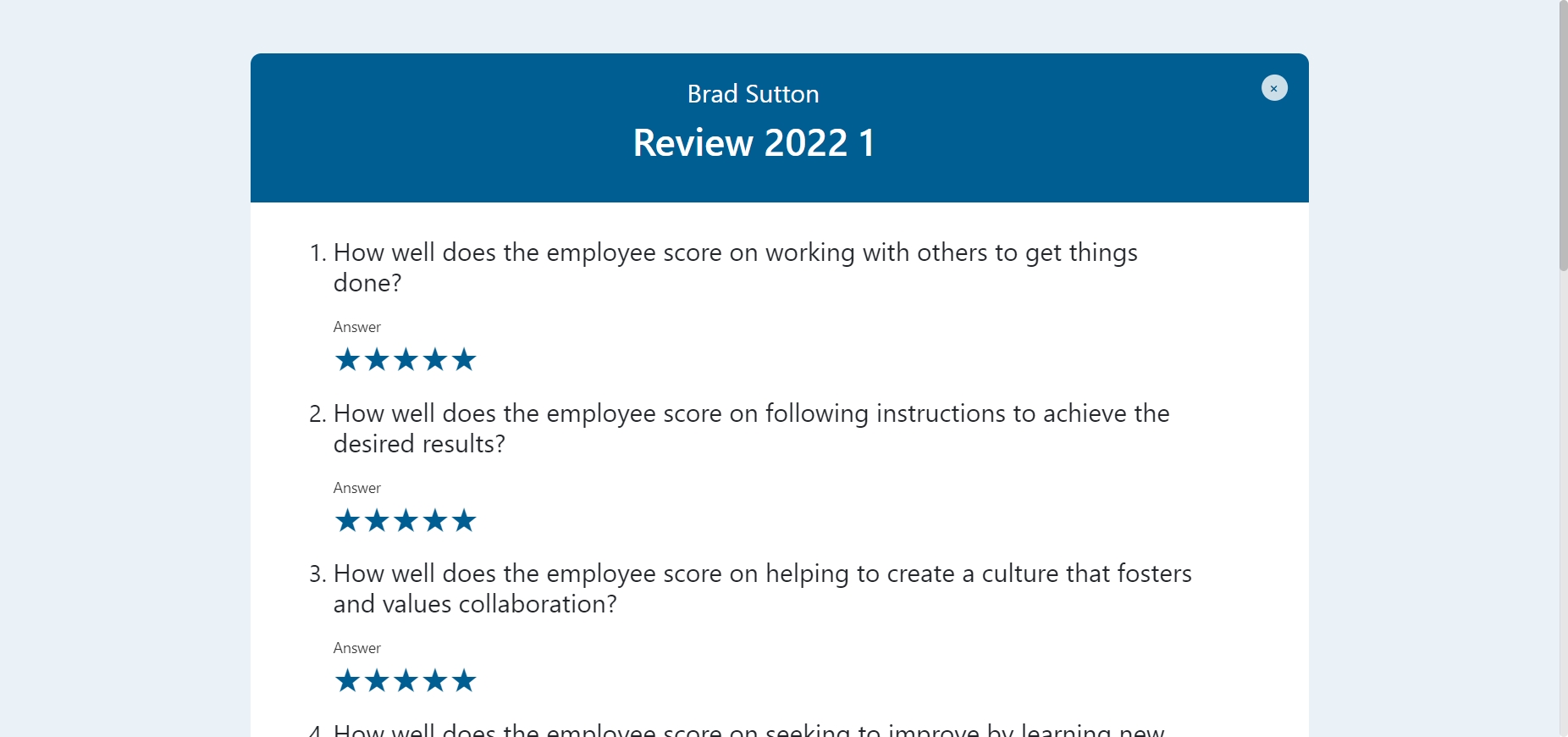 Merit Increases
Merit increase is a traditionally time-consuming and error-prone process as HR must manually export data from various sources and re-enter it into spreadsheets, which are emailed around for approval and pose a major risk to data security.
The Performance Management Web App eases this pain point significantly through the merit module, which automatically collects employees' performance scores, enabling it to automatically calculate merit increases and pass them on to the finance module of Dynamics 365, and ultimately to payroll.
This is a totally unique feature to Web Apps which HR and managers have full control over with options that include setting desired currencies, allocating higher or lower merit increases to individual employees, and choosing management hierarchy for the approvals process.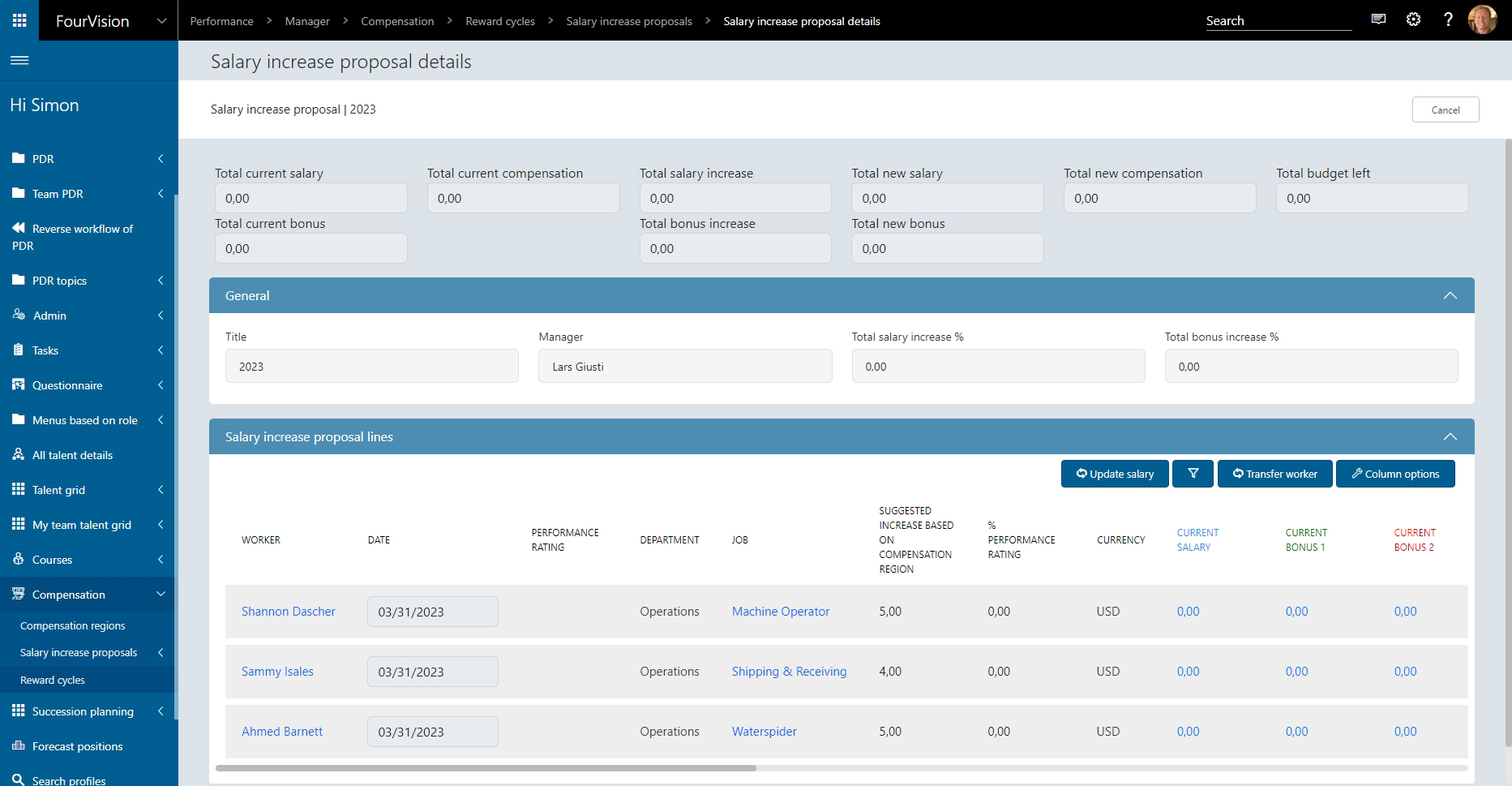 Workforce & Succession Planning
Workforce Planning and Succession Planning are strategic processes that are critical for identifying current and future staffing needs and ensuring that important positions are always staffed by the most suitable employees.
HR leaders can rely on FourVision Performance Management data to spot where skills gaps exist for succession planning and identify high-potential employees who might be able to fill these gaps. The Performance Management tool can also be used to gather data on employees and organizational needs to determine individuals who could occupy senior positions in the future.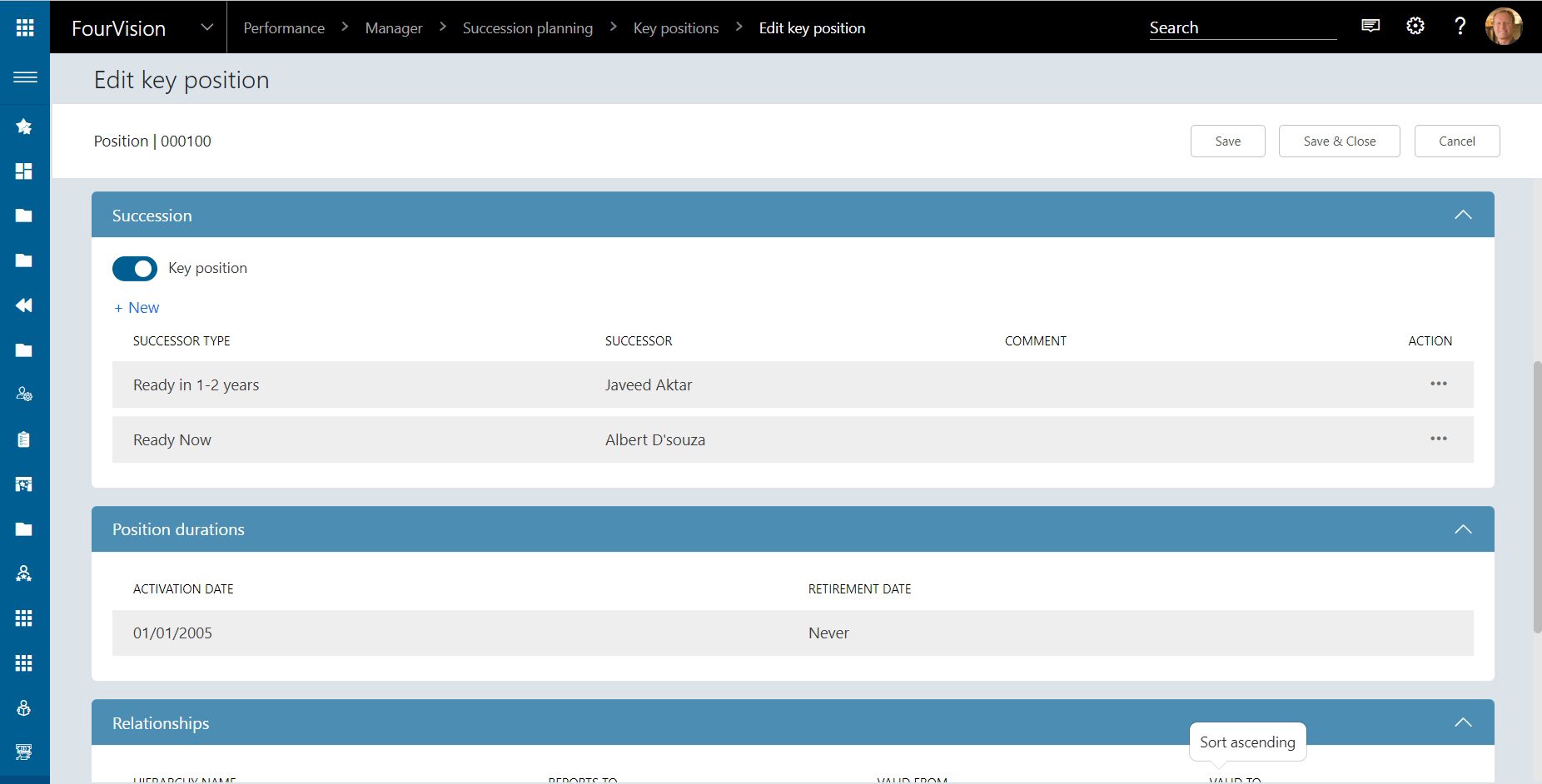 An End-to-End HR Solution
FourVision Web Apps fills the gaps commonly left in HR software solutions, such as advanced talent management functionality as we've explored in this article.
Our performance management solution for Dynamics 365 F&O has been designed to work cohesively with your existing HR environment so that HR teams and employees can benefit from a seamless user experience, maximum efficiency, and data analytics capabilities.
Get in touch to level up your Dynamics 365 F&O experience and bridge the gaps with advanced performance management capabilities to build your End-to-End HR solution.