Finding the right candidate based on the position requirements is the single most important recruiter activity. Even though recruiters now have more tools available than ever before, finding the right job candidates has never been harder. Fierce competition and the (until recent) booming economy resulted in a market where there is more demand for work than there is supply. Recruitment departments can use state-of-the-art technologies like artificial intelligence to gain an edge over opponents. This article shows you how your HR department can successfully go from an open position to finding the right candidate.
How do I determine the Position Requirements for a job?
Requirements for an open job position depend on many factors specific to the position. To make determining the position requirements for your vacancy easier, there are four general incentives to take into account. We go through all of them:
Current employee leaving the business
When an experienced colleague is leaving,  you may often find a gap in your workforce. In this case it is extra important to be specific in the job requirements.
For example: Activities related to the job should be written specifically. Descriptions as "Preparing a monthly financial report" may include many things such as "Collecting and verifying data" and "Running a financial analysis", "Entering and interpreting data in Excel spreadsheets". The more specific, the higher the chance applicants suited for the job will apply.
New projects (Growing the team)
In certain areas it is common to hire new personnel for projects that are coming up. Especially for organizations that work with project groups, it is important to always have enough personnel in house. No sales person want to say no to a customer. Whether you want to hire someone for the short term or long term, it is important to be on time.
When your organization is working with small project groups, it is wise to put more focus on describing the role in a team rather than the individual expectations.
Growing the business (buyouts etc.)
When an organization is doing well, chances are that you need to think about growing the business by hiring more employees. But who should you hire? With the Workforce Planning Web App, you can anticipate on tomorrow's recruitment demands. The Web App does so based on your organization's future growth forecasts.
When you're looking to hire new employees for growth, make sure you look for position requirements you haven't determined yet. Look for 'nice to have' qualifications that may help your organization in the future to do even better.
Heavier workloads
As soon as you experience that your employees are starting to have heavier workloads, it is time to react. Of course you want your workforce to be productive, but heavy workloads can be a presage for horrible things like burnouts. Keep your employees close and ask how they experience their workloads. As soon as workloads gets heavier, you might want to consider hiring additional team members. The requirements should be written in context to related positions in the organization.
How do I find the right Job Candidate?
After you have determined the position requirements, it is time to look for the right candidate. Knowing where to look as a Recruiter is key. We are giving you some examples of where you can start. We wrote down six steps:
Market the role in the right way
Marketing, isn't that for selling products? Well,  if you look at marketing as presenting the world your product in the best way possible, you will see that the same principles can be used for marketing a vacancy. There are several channels to reach the right people:
In practice, a large percentage of open positions are filled in via networking, both internal and external. Your own colleagues can be great brand ambassadors! Also consider posting your open position internally since the 'old fashioned' way of filling in vacancies through promotions saves costs and onboarding time. You also already know everything about the candidate.
Social Media (organic and paid)
Social media are often used for classic marketing purposes and/or customer service. Your presence on social media can also be utilized for recruitment. Customers, fans or even people working at competitors may find your vacancy and share it with someone they know (or apply themselves!). For example: at FourVision share our vacancies and celebrate new colleagues joining the team on our LinkedIn.
Posting vacancies on job posting sites such as Indeed.com can be an effective way to reach many potential candidates. The downside however is that your open position might be lost in the sea of vacancies. Posting on Job Sites will also cost you. Depending on your budget, you can consider this option.
Physical events are one of the most personal ways to meet potential candidates. Attending events on for example universities, enables you to get in contact with hundreds of young talented people on a day. These small talks at a booth at an event allow you to get an impression of the potential candidate. This means that you can invite the best candidates to job interviews. It is no miracle that companies all around the globe use these events in their recruitment strategy.
One of the best way to reach potential job candidates, is a career site. We all know about the vacancies posted on the regular corporate site, but do you know that dedicated Career Sites are a great addition to any organization? Think about it, people who visit your career site are interested in working for your organization. They like your mission, reputation or maybe your benefits. They like what you stand for as an organization. Phenom's TXM Career Site platform works with state-of-the-art technology based on artificial intelligence to show your Career Site visitors jobs the jobs they are most likely interested in.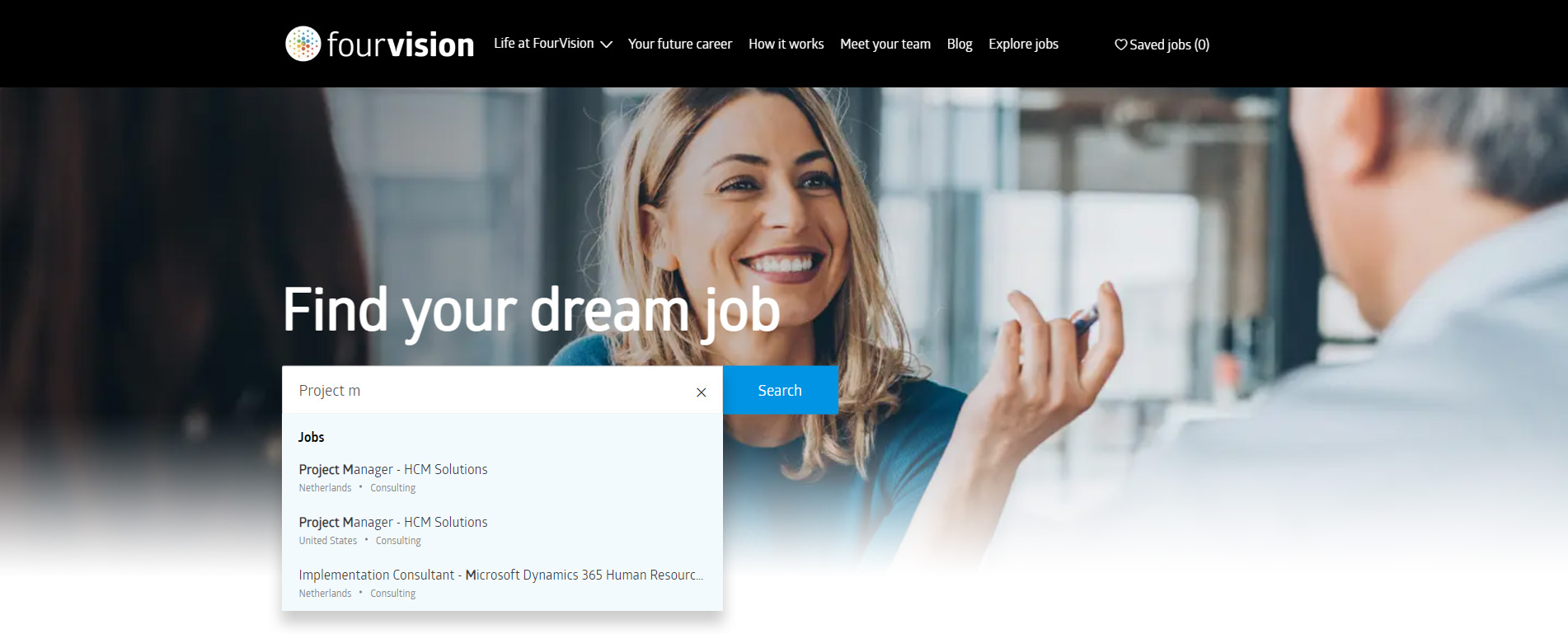 Use AI to highlight candidates who match the role
As soon as the job candidates apply to your vacancies, you can start looking for a match. If you in a big organization with lots of candidates coming in every day, you might want to consider artificial intelligence to take over this work from you. AI is able to detect patterns on resumes with your requirements. Are you looking for someone with 3-5 years of marketing experience? AI will give someone with 2 years of experience a lower score within your ATS. This way you can see the most fit candidates in the blink of an eye. Phenom's TXM Career Site platform comes with the right AI to do this work for you!
Screening

Just before you decide which candidates you want to reach out to, it is time for a screening. Here are some useful screening methods to get you started:
Skill testing (like a mini-internship)
Resume screening, going over resumes to analyze if the candidate fits the job
Cover letter in which candidates present themselves and explain why they're fit for the job
Applicant tracking system
Checking references, the old school way of contacting references the candidate submitted
Searching for the candidate in a search engine including LinkedIn
Phone or video interview
Communication
When communication with a job applicant, you need so be sure to treat the applicant like you want to be treated. This sounds obvious, but you have to keep in mind that the reputation of your organization is involved. A great recruitment process, whether you hire someone or not, gives the candidate an impression of your organization. Do you want them to respond quickly? Start with yourself. Also consider the corporate identity, does your organization communicate formal or informal?
Interviewing
The first job interview can be eerie for both he applicant and the interviewer. However, much like the previous step, the quality of the conversation it is important to make the interview as pleasant as possible. Make sure to break the ice at the beginning of the conversation, so the candidate feel that he/she can speak freely.
Going over the candidate's factual skills often creates a 'static' conversation in which the candidate feels like they have to defend themselves. A more friendly way of testing their insights and skills is to sketch a fictional situation (in context to the job requirements) and let your potential colleague explain how they would tackle the situation.
Deciding process
This step is all up to you. We cannot give you much advice here. Pick the candidate that fits the job the best and take their personality into account. Deciding is all up to you, but we can help you with your Onboarding Process. A great onboarding enables your employee to have a better start at your organization. Did you know that with great onboarding, your employees feel more committed, connected and integrated to the organization and its culture? We wrote a blog about how you can onboard new employees (remotely).
---
Would you like to learn more? Here are a couple of similar articles for you to read: