Coordination between ERP and Payroll systems is a necessity for businesses to operate efficiently. The FourVision Payroll Interface offers a solution that integrates your Payroll system with Microsoft Dynamics 365.
Whether your organizational reach extends domestically or globally, the interface capitalizes on the Microsoft Dataverse connection to establish a data flow between systems.
The interface configuration can be personalized to store data accurately based on factors like country, legal entity, or fiscal data needs. This fusion of a robust HRIS with renowned Payroll providers such as ADP, Unit4, Payspace, and Sage, or even local providers, underscores FourVision's commitment to delivering a comprehensive solution on the Microsoft platform.
Which Microsoft Dynamics 365 apps does payroll interface work with?
The versatility of the Payroll Interface spans across multiple Microsoft Dynamics 365 applications, including:
Dynamics 365 for Finance & Supply Chain Management (SCM)
Dynamics 365 for Human Resources
Connection with Dataverse and thus the Power Platform
By extension, the Payroll Interface its link with Dataverse empowers integration with D365 apps such as CRM, Business Central, and Power Apps.
How to integrate any payroll system with Dynamics 365?
Adapting to the specifics of your D365 HR/F&O and Payroll systems may vary depending on your preferred payroll provider. In general, the process can be outlined as follows:
Install Payroll Interface: Establish an environment where the FourVision Payroll Interface Web App is deployed.
Manage HR Data: Continue maintaining your human resources data within Dynamics 365 F&O / HR as usual.
Process Payroll Runs: Use Payroll Interface to create and process payroll runs, generating data.
Data Transmission: Payroll Interface is used to ship the generated payroll data to your external payroll system.
Payroll Processing: Leverage your payroll system to calculate salaries, remunerate employees, and generate a comprehensive general ledger journal.
Finally, you can import the journal into Dynamics 365 for the purpose of reporting with Power BI, completing the loop.
How does the payroll connector for Dynamics 365 work?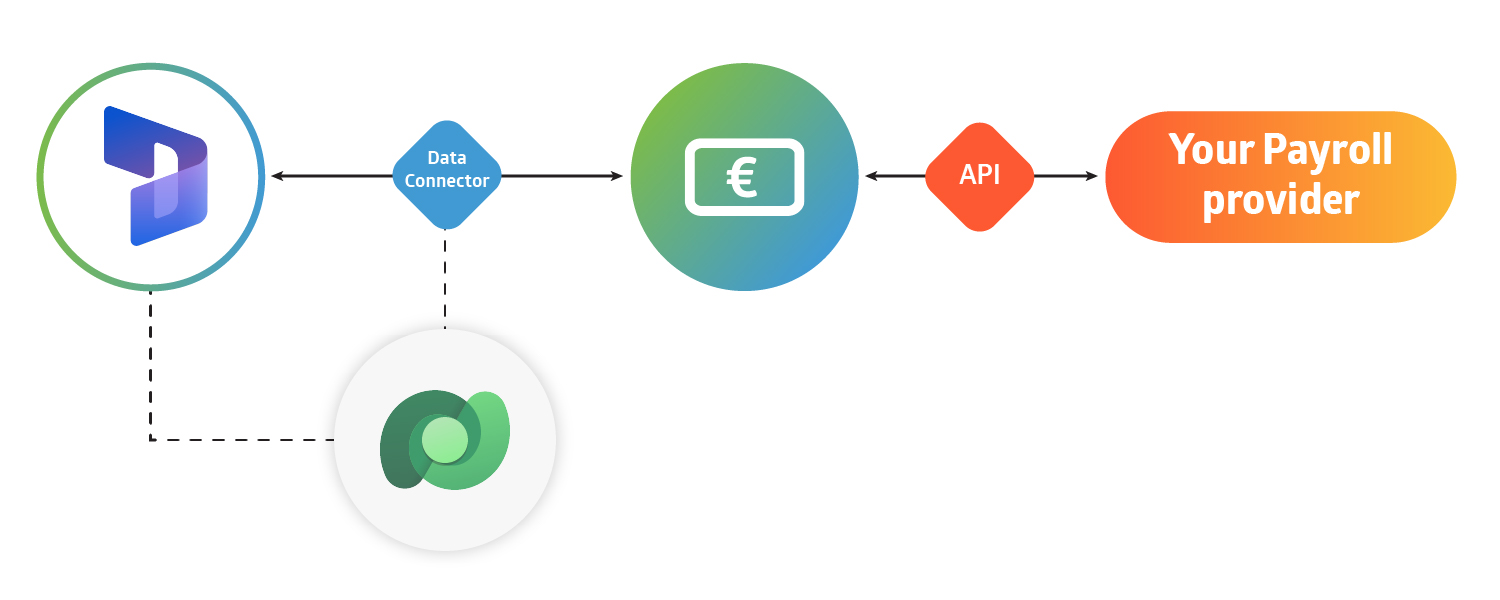 Starting from Dynamics 365, the standard Data Connector interfaces with both Dynamics 365 and Dataverse.
The FourVision Payroll Interface Web App employs our API to facilitate the movement of data. This API serves as the backbone of the interface, ensuring the efficient transfer of critical information.
While the interface substantially covers a significant portion (typically 50-80% depending on the payroll provider) of the integration, adaptations might be necessary to align with the unique attributes of your D365 HR/Finance and Payroll systems. FourVision provides expertise and guidance in tailoring the interface to suit your specific organizational context.
Personalized payroll configuration
The interface configuration can be tailored to align with specific parameters such as country, legal entity, or fiscal data requisites. This flexibility ensures accuracy in data storage and compliance with diverse regulations.
As Microsoft's largest partner with a specialization in HR, FourVision develops Web Apps for Microsoft Dynamics that add functionality to support your End-to-End HR process. If you are ready to streamline your payroll process, reach out to us and we will discuss the options!