What is performance management, really?
Like any HR professional, you understand that monitoring your employees' development and performance is vital to meeting your organization's goals. That's why Performance Management is so crucial. It enables you to track employees' performance, so you can decide whether they need extra support, can handle a higher-level training or deserve a raise.
There's a common misconception that Performance Management is only about setting targets and putting a number on each employee's performance. But it goes much deeper than that. It's actually about making sure that your employees' actions are in line with the expectations that their role entails.
Below, we discuss the importance of taking a structured approach to Performance Management and what you and your HR team can do to get the most benefit out of your performance development activities.
The importance of Performance Management in HRM
Performance Management has long been one of HR's core activities. Today, it is becoming more important than ever, as HR teams adapt to new challenges like hybrid work, which may negatively impact performance and engagement. Organizations who dedicate time regularly to performance reviews and assessment are more likely to see an increase in employee engagement, because they actively encourage employees to think about their goals more frequently. After all, employees' goals change more than only once per year.
In addition to improving engagement, a continuous Performance Management approach also increases productivity and retention, which are major priorities for many HR teams in today's tight labor market. By implementing a consistent Performance Management process, you give your organization's employees, managers and HR professionals a clear understanding of what's expected of them, and how their development matters to the success of the business. At the same time, you are better equipped to identify and cultivate high-potential employees, and to spot any areas that need improving. This enables you to take the right actions to ensure continual, meaningful employee development and upskilling.
How to track performance
According to the Academy to Improve HR (AIHR), Performance Management is a 4-step process that continues throughout the entire year:
Planning: Set meaningful, personalized goals for each employee and define precise metrics for ensuring adherence to those goals. Ensure that the employee agrees with the goals and understands why they are important to the success of the business.
Monitoring: Continually monitor each employee's progress to see whether they are on the right track to achieve their goals. Hold regular meetings to evaluate and discuss the employee's progress one on one. These appraisal meetings can take place at least once a year, but preferably more often.
Developing: Based on the outcomes of their performance evaluation, offer employees the training opportunities they need to remain on track with achieving their goals.
Rating and rewarding: Be sure to offer a meaningful reward (such as a financial incentive or peer recognition) to employees who reach their goals.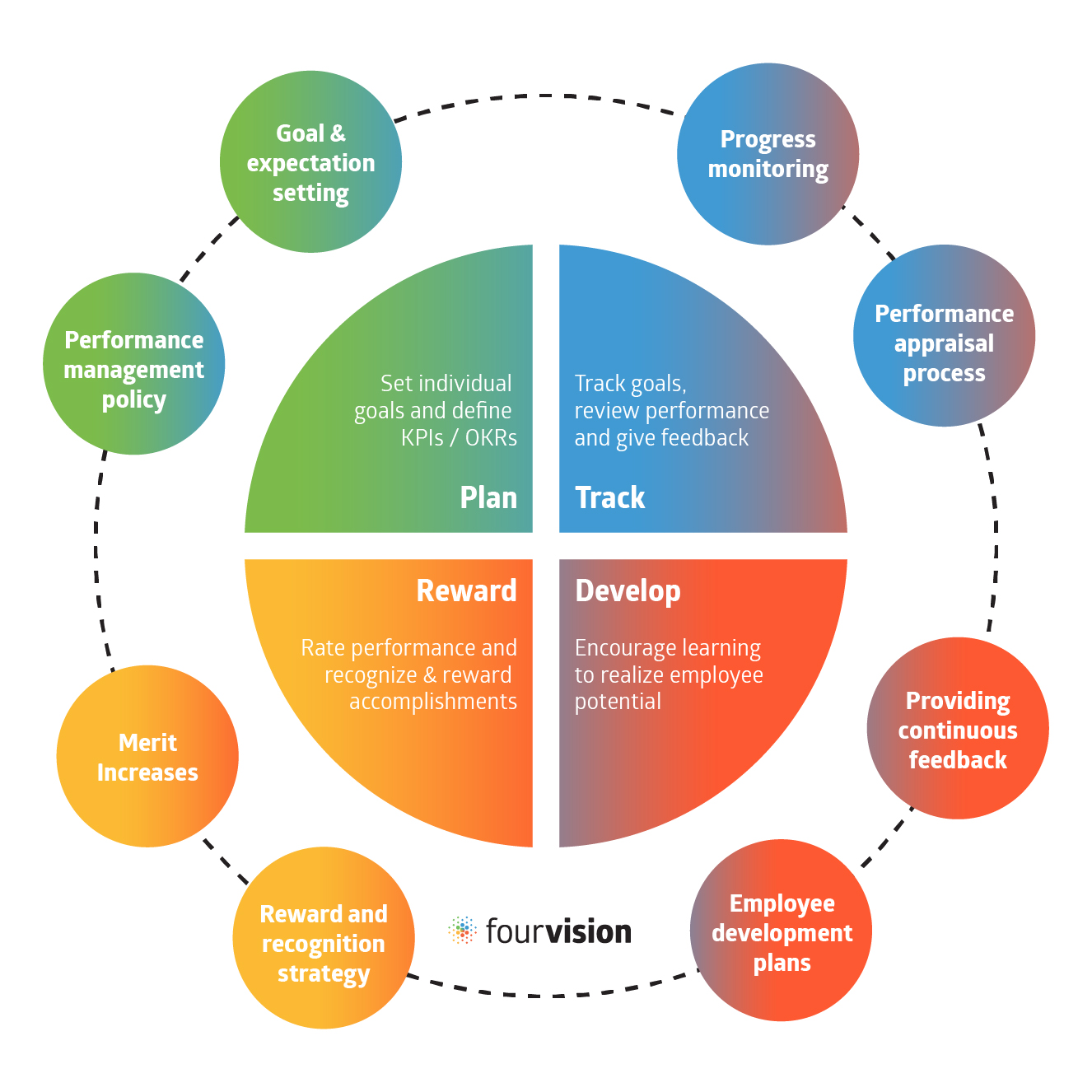 Documenting and monitoring your Performance Management activities can be a complex, time-consuming task. Fortunately, there are helpful HR tech tools available to make the process much easier to manage.
Microsoft Dynamics 365 Human Resources allows employees to document and track their own performance and review their progress with their managers. It includes a performance journal to track progress by adding personal goals and performance reviews.
The FourVision Performance Management app expands on the functionalities of Microsoft Dynamics 365. It integrates seamlessly into the familiar Dynamics environment, adding helpful, employee-friendly features. These additional features include skills mapping and employee dashboards that make updating and goal-setting even easier, even on a mobile device.
Our Performance Management app also provides a managerial overview that lets managers review their team members' development and performance at the touch of a button. With a specialized tool like this, it is easier than ever for HR teams to tap into the power of Performance Management.
Moving beyond Performance Management
Performance Management is a vital tool for helping your workforce to continually develop. That's why many HR experts are moving beyond Performance Management and embracing a Performance Enablement approach. This relies on the same cycle as described above, except the focus is much more on creating awareness of how important each individual employee's development is for the future of the organization.
Implementing a Performance Enablement approach starts with offering your employees an advanced Performance Management experience. This includes integrating aspects like:
Providing performance feedback in the form of 360-degree feedback
Personalized learning trajectories and learning management
Offering merit increases based on the outcome of the employee's performance appraisal
All these aspects combined help you establish an end-to-end HR approach, in which HR is closely involved in every stage of the employee experience. By creating a coherent, interconnected employee experience like this, you help build the skilled, engaged workforce that your organization needs.