Identifying high-performing talent within your organization is pivotal for its sustainability. As you can imagine, the departure of a high-potential employee in a key position can disrupt your organization's workflow.
By extension, when you accurately determine whom to retain or let grow in which roles, it can make the difference between a low or high turnover rate. The solution to this challenge lies in the implementation of strategic succession plans.
In this article, we explore the strategies and tools that can help your organization to effectively forecast and manage employee succession, all based on Microsoft Dynamics 365 for Human Resources.
The basics: How to strategically organize your workforce?
To begin the process of optimizing employee succession, you must have a comprehensive understanding of your workforce's skill set. As your organization evolves to meet changing demands, the skills required from your employees will also shift.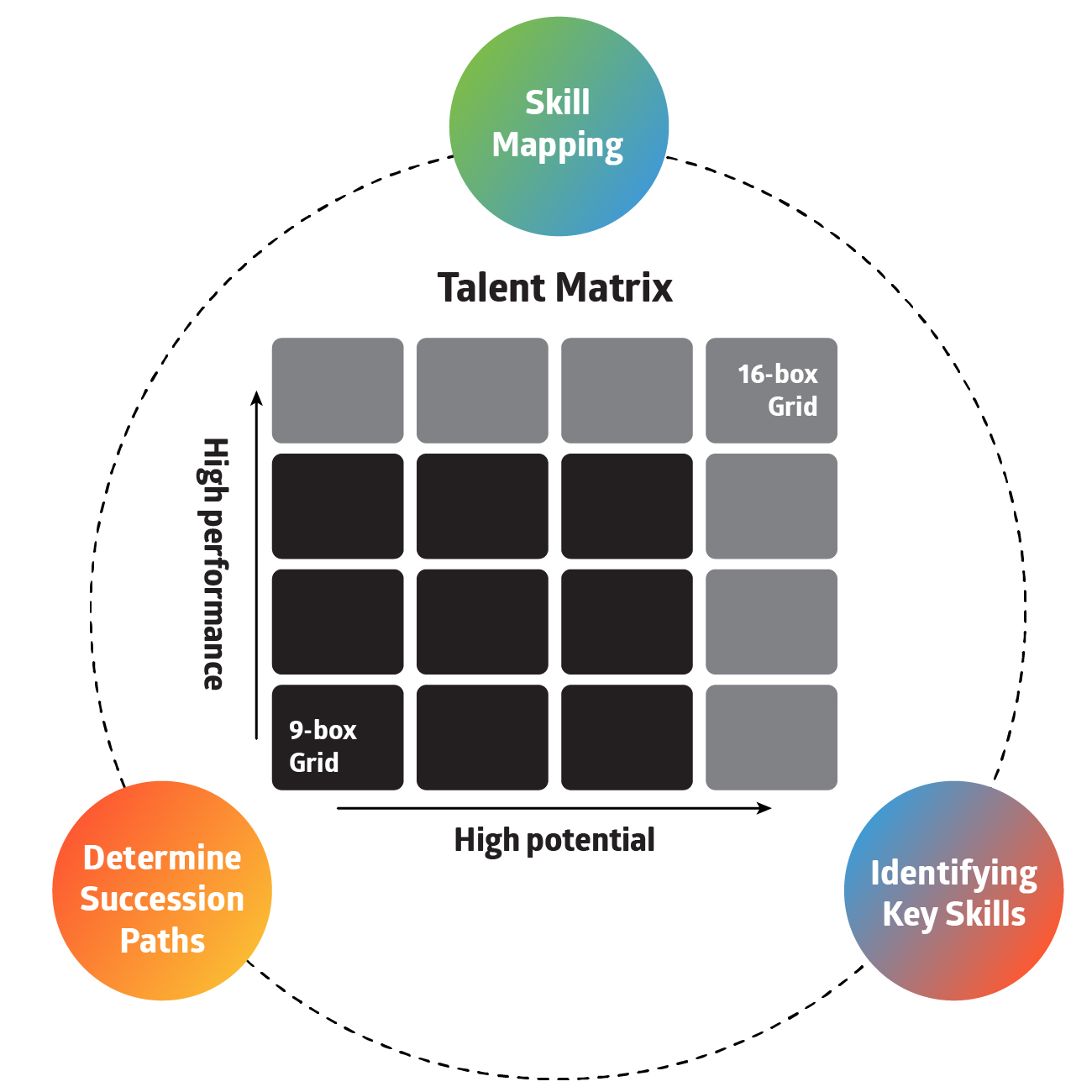 We outline three key steps to ensure accurate succession forecasting:
Step 1: Skill Mapping
Determine the skills your employees have acquired through experience or additional training. This not only highlights their growth potential but also reveals skill gaps within your workforce that could hinder internal promotions.
Step 2: Identifying Key Skills
Identify the core skills essential for your organization. Determine which employees already possess these skills or have the potential to acquire them in a relatively short period. Clarity on these aspects is pivotal for effective succession planning.
Step 3: Determine Succession Paths
After identifying employees with the requisite skills or potential, it's critical to decide whom they will succeed and whether it's feasible. The focus here is on preventing disruptions in your business processes, especially when staff depart.
The right tool for Succession Planning on Microsoft Dynamics 365
Tracking and managing the ever-evolving skills and growth potential of your employees can be a challenging task, particularly for the HR department.
This is where the Succession Planning Web App comes into play, providing a structured solution to support your succession planning needs. While working seamlessly with Microsoft Dynamics 365 HR,
Bring the 9 or 16-box Talent Grid to Dynamics 365
FourVision's app for Succession Planning on Microsoft Dynamics 365 F&O and HR offers the popular 9-Box Talent Matrix (by McKinsey) and our variation, the 16-box talent matrix.
With the interactive tool, HR teams and managers can easily identify employees' growth paths according to their potential and performance.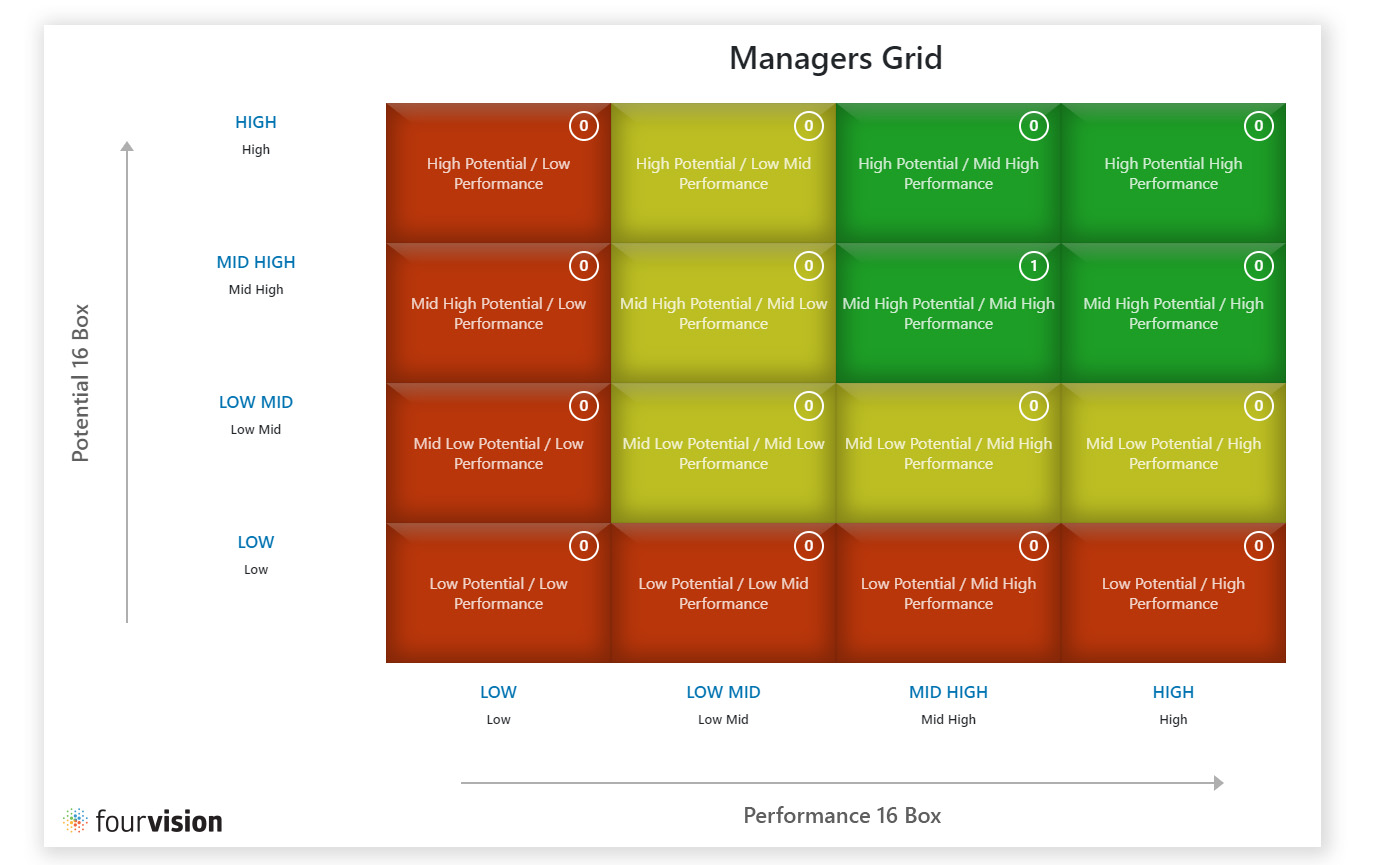 Connecting Performance Management and Succession Planning on Microsoft Dynamics 365
Implementing a robust succession planning strategy strengthens your business processes and positions your organization for long-term success. This strategy involves ongoing conversations and effective performance management.
Having identified the high-potential employees, you can take the next steps in an employee's Professional Development Plan, and develop a training plan if necessary. This will allow the employees to gradually take on more responsibilities and gives them time to learn new skills or gain more experience even before you need them as the successors.
Conveniently, Succession Planning is seamlessly embedded in FourVision's Performance Management app, allowing you to conduct both HR processes in the Dynamics 365 environment.
About FourVision
As a leading Dynamics 365 Human Resources implementation partner for Microsoft, FourVision has a proven track record of successfully implementing HR platforms across various industries and Microsoft environments for over 15 years. Our suite of HR apps extends Microsoft Dynamics 365 and is designed to help organizations prepare for the future.