Reliable, scalable, and easy-to-manage payroll system is a must-have for any organization. Yet stakes get higher as your organization grows and expands geographically. Different taxing and employment policies and IT system synchronization challenges across the globe make it complex enough. Add hybrid working to it (our new normal)! What matters is that each employee gets a timely and correct paycheck every month, no matter where they are. How do you make sure of that?
Integrate a payroll management system
Cloud-based software is the new standard. The most important is not how extended the functionality of such system is but how it suits your company's payroll. To choose the right payroll management system, follow our checklist below:
It serves your payroll needs, without compromise.
It scales as your organizations expands.
It is easily integrated with your core HRM platform.
It supports one source of HR data (single source of truth) in your organization.
It's GDPR compliant.
Train payroll employees
For your payroll to function smoothly, it's essential train and upskill your payroll team for the remote-first future. They should understand how to gather employee data, verify tax deductions, manage entry and exit regulations, and more. On a technical side, they should be confident admin users of your payroll system. And, most importantly, they should be able to replace each other, when necessary — don't put the entire payroll responsibility in your company on one person.
Streamline stakeholder management
Yes, your payroll team is responsible for executing payroll. But it needs other stakeholders such as HR and managers to gather data and approve it in time. That's why it's crucial to establish a step-by-step process that all stakeholders are aware of. Keeping it simple and sending regular notifications to involved stakeholders will help you meet the deadlines.
Manage input collection
Registering your employees' hours is crucial for correct billing and eventually payroll. Timesheet apps is a great way to manage hours and pass this data directly to the payroll system. Learn more about timesheet software and how to choose the one that serves your business.
FourVision Payroll Interface for Dynamics 365
For organizations using Dynamics 365 as their core system, we have build the Payroll Interface that allows you to run payroll seamlessly, both domestically and internationally. We use Microsoft's Dataverse (formerly known Common Data Service) to streamline payroll:

FourVision Payroll Interface can be easily integrated with your payroll provider such as ADP, Ceridian, Sage, or any other local Payroll provider.
With FourVision Payroll Interface you can:
Add country-specific and legal payroll and tax requirements
Troubleshoot within the Interface to ensure expedited Payroll processing
Get solution-based troubleshooting when incorrect data is found
Maintain one source of data across your systems
Safeguard GDPR-compliance.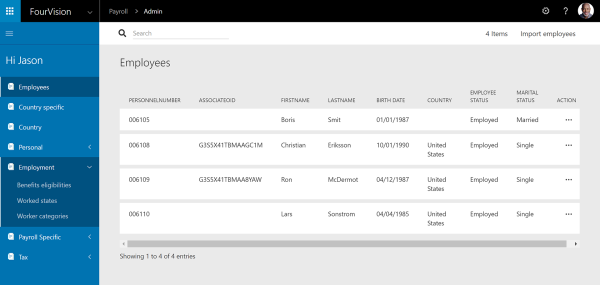 Would you like to explore more about the potential of the Payroll Interface for your business? Schedule a demo with one of our consultants to learn more!