As any HR specialist will know, the work doesn't stop just because a candidate has passed the recruitment phase and is hired. There's still a lot to be done.
It's often the case that when an employee is hired, a whole range of HR requests must be filed by recruitment staff. These cover everything from vacancy delisting and submitting a hiring request to creating employee records and profiles with all relevant employment details.
These requests are typically filed directly with HR or through some sort of dedicated system, such as Microsoft Dynamics 365 HR.
A better solution for managing recruitment requests?
Although Dynamics 365 is useful for basic candidate management with its out-of-the-box functionality, users who want to automate them will face eventually face significant hurdles, such as:
Very few options for integrating with third-party systems, especially when the workflow is ongoing.
Limited options for setting up multi-step approval requests.
No way to integrate automated security checks.
No option for sending approval requests outside of Dynamics, such as via email.
To help recruitment teams overcome the inherent limitations of Dynamics 365 HR, FourVision built the HR Request Web App, which links in with Dynamics 365 to collect, structure, redistribute, and monitor all your HR requests, and introduces a range of new features.
Streamline recruitment with HR Request
The HR Request Web App enables employees to submit requests quickly and easily, streamlining internal HR procedures such as updates of worker-related information and new positions.
When it comes to hiring requisition, HR Request simplifies the process by:
Enabling users to create advanced hiring workflows
HR Request makes it possible to create a complete end-to-end hiring workflow that incorporates multiple steps across a variety of systems.
Use HR Request to create or approve positions for hiring before sending them to your chosen applicant tracking system (ATS) for sourcing, interviewing, and making offers to candidates. The data from these requests can then be sent back to HR Request and onwards to Dynamics 365 to complete the hiring process.
Pulling candidate data from iCIMS and Dynamics ATS
HR Request makes it possible to pull candidate data from iCIMS or Dynamics ATS and integrate it into any system.
This is made possible through the API integrations toolbox, which simplifies integrations between HR Request and third-party systems through three points of integration: the initial request; the approval workflow; and completion.

Sending the right data back to Dynamics
HR Request includes the option to periodically sync all records from Dynamics 365 into it. Sync creates, updates, or purges all data in a selected table so that the data inside of HR Request mirrors that which is held in Dynamics. The API toolkit includes triggers that can start an integration process on initiation, workflow steps and approval.

Displaying approval requests outside of Dynamics
HR Requests can send approval requests outside of the Dynamics 365 ecosystem to apps such as Microsoft Teams or Outlook. This makes it easier for managers to oversee and action pending requests in a timely manner, in a place that best suits their workflows.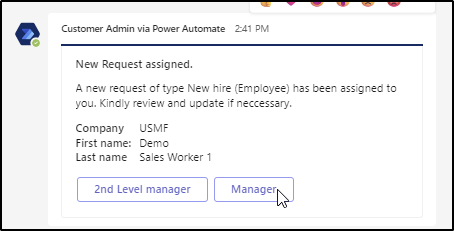 Other ways the HR Request Web App streamlines recruitment processes include:
A midway point to check applicant data before it lands into F&O
Hire forms that enrich applicant data with F&O data, like leave and compensation plans
Simplified data entry by providing one form to fill multiple F&O screens
Allowing additional automated approval steps, such as screening and security checks.
Transforming data so that it matches that of Dynamics 365 and vice-versa.
Giving users more GDPR control through better data management.
Although it is technically possible to achieve most of these things through the Microsoft Power Platform, the HR Request Web App has been built specifically for the Microsoft ecosystem by FourVision. As a result, all these capabilities are available out of the box, which saves customers time and the hassle of building and maintaining custom functionality.
FourVision is also an official partner of Microsoft and the first Microsoft partner to be focused exclusively on the HRM module of Dynamics 365. This means that we've got a unique partnership with Microsoft, which enables us to stay on top of the latest developments for the benefit of our customers.
Get your free demonstration of HR Request
If you are interested in integrating your HR requests with Dynamics 365 or another app, or simply want to find out more, our FourVision experts are here to help!
Get in touch for an initial consultation or to request a demo of the HR Request Web App.