What are the most time-consuming administrative tasks you have to deal with as an HR professional? If you're like most HR administrators, these tasks are probably all near the top of your list:
Employee leave requests
Hiring requests
Payroll administration
We know that these processes are notoriously complex and time-consuming. You also have to deal with them so often: sometimes even on a daily basis. If you're working with Microsoft Dynamics 365 HR or F&O, you already have some basic options for managing these processes. But it's still a pain trying to input data manually, gather approvals, collect documents and keep things moving.
Fortunately, the technology is catching up. Did you know that automated software solutions can now slash the amount of time you spend handling these three processes? In this article, we show you how the right HR tools will save you time and hassle by reducing your admin workload.
1. Employee leave requests
For many HR professionals, employee leave requests are one the biggest headaches. Employees can request leave for many different reasons. Each reason may have to undergo a different approval process. And you've got to keep track of your working time calendar to avoid staff shortages when an employee requests to go on leave.
The FourVision Leave & Absence Web App lets you easily manage employee leave requests and automate the process wherever possible. This tool is so useful that it's now a core feature of Microsoft Dynamics 365 HR. We also offer it as a Web App, so it's available for anyone who wants to create custom workflows and approval processes for their employee leave requests.
When an employee wants to request time off (for any reason), the tool gives them an easy-to-use self-service portal. Here, they can see a personal calendar of all their pending and approved requests. They can also see their total balance of available leave hours.
When the employee enters their request, they choose which type of leave they are requesting. You can fully customize the choices depending on the types of leave that your company allows for that specific employee. For example, employees can choose from:
Paid vacation
Paid time off (PTO)
Unpaid leave
Sick leave
Medical leave
Family leave
Bereavement
The leave request always follows a standard template that ensures only valid requests are entered into your system. Each type of leave has a specific leave code. When the employee chooses one type of leave and then submits their request, the leave code triggers an automated workflow that starts the leave request moving through the approval and admin process.
Here's what a typical leave request workflow looks like:

For customers that require more advanced leave approval processes, we still offer our Leave & Absence Web App for Dynamics 365 where you can custom-configure the tool to meet your needs. It also includes an API toolbox that lets you connect with other Microsoft apps, like Teams, Power Apps, Azure AD and Email. This lets you efficiently send and receive the right information between multiple systems involved in your approvals process.

FourVision's leave web app controls the entire workflow, every step of the way. You never have to worry about keeping the process moving manually. The Web App makes sure requests are always put in front of the right person at the right time. The process is fully transparent and prevents too many employees from being off work at the same time. And there's no more manual data entry or busy work for your HR team.
2. Hiring requests
Hiring requests take up a lot of time and effort. They're one of the most complex tasks that HR professionals have to deal with. You've got to make sure the process runs smoothly for the hiring manager as well as the new recruit, and you're usually under pressure to get things done fast.
The process starts whenever a hiring manager sends a job requisition to HR. Then it's up to you and your team to create a new employee profile in your system along with all the relevant employment details.
If you've ever used Dynamics 365 F&O/HR to perform these tasks, you know that it is limited to internal job postings. From a technical perspective, it's also difficult to integrate D365 with actual recruitment systems or applicant tracking systems (ATS).
FourVision's HR Request Web App gives you a versatile tool that simplifies all HR requests, including hiring requests. With this tool, you can:
Standardize job requisition forms
Pulling hiree/employee data from any ATS, such as iCIMS
Synchronize data so it matches your record in D365 (or vice versa)
Send the right data back to D365 F&O/HR to create a new employee record
Automatically integrate approval requests
Here's how the HR Request Web App works:
Using a standard interface, the hiring manager submits their hiring request to HR in Dynamics 365: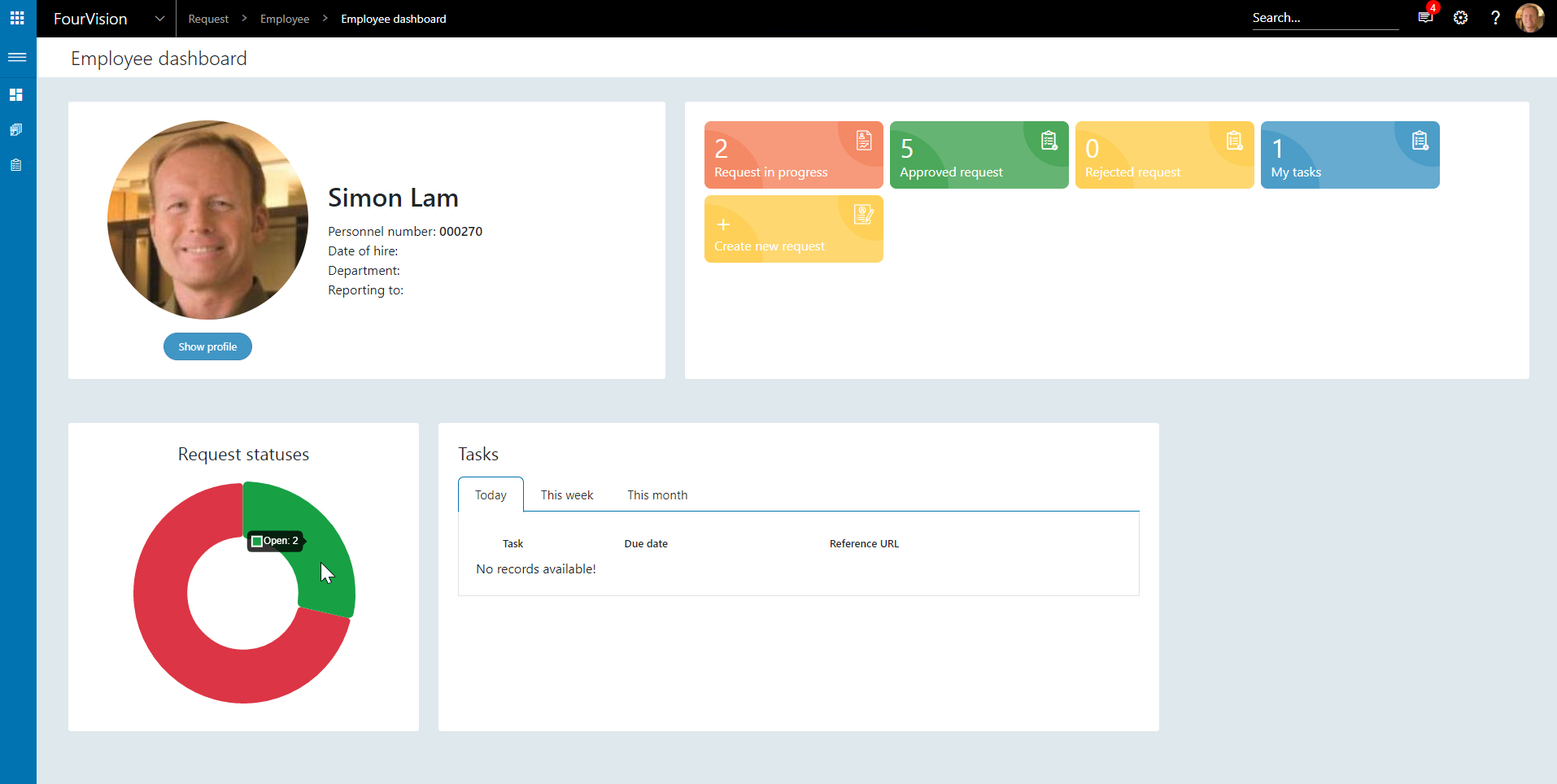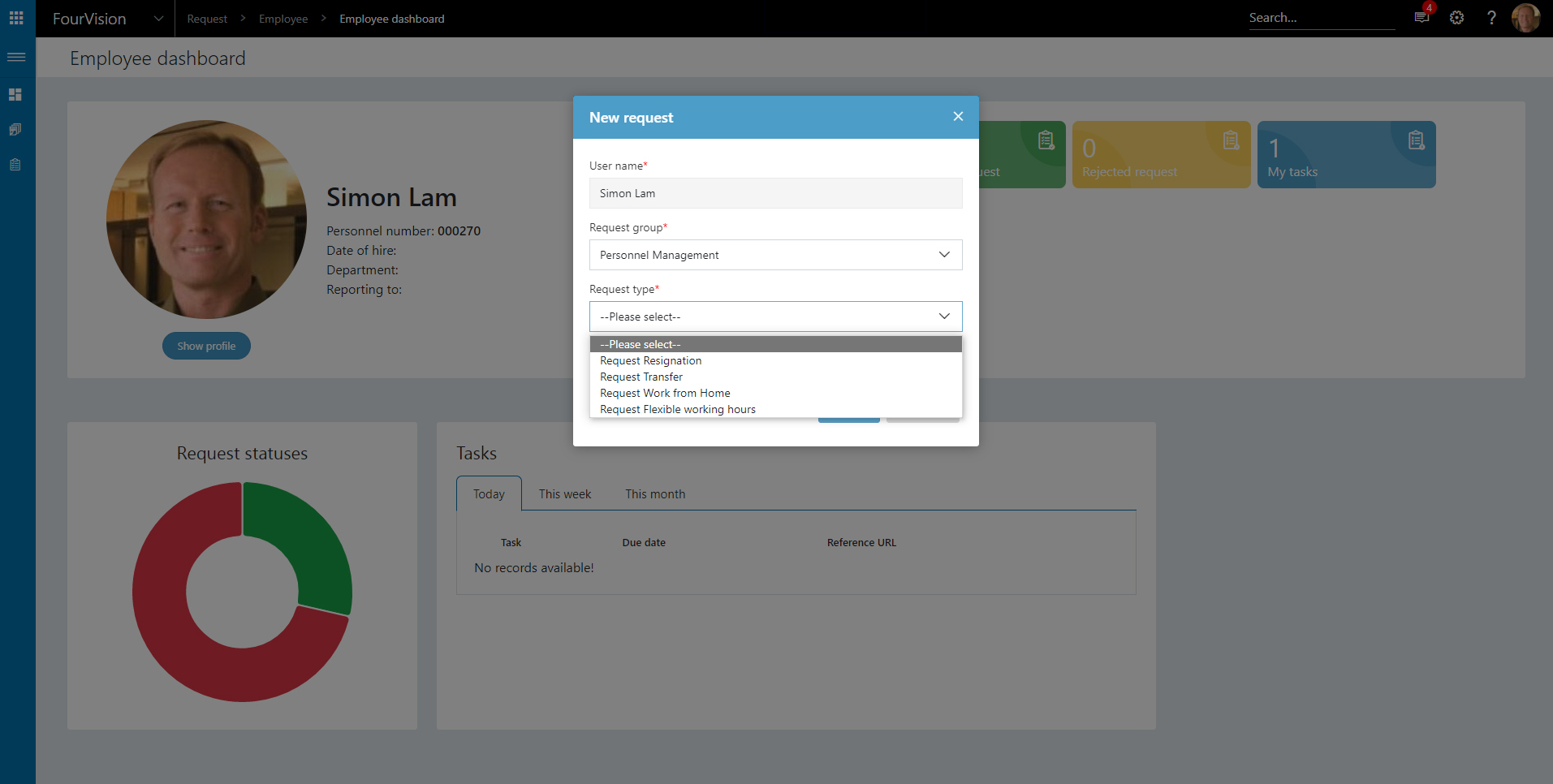 The same interface lets the hiring manager keep track of their request from start to finish.
Meanwhile, HR has a full, transparent overview of all submitted requests, which you and your team can access via desktop or mobile: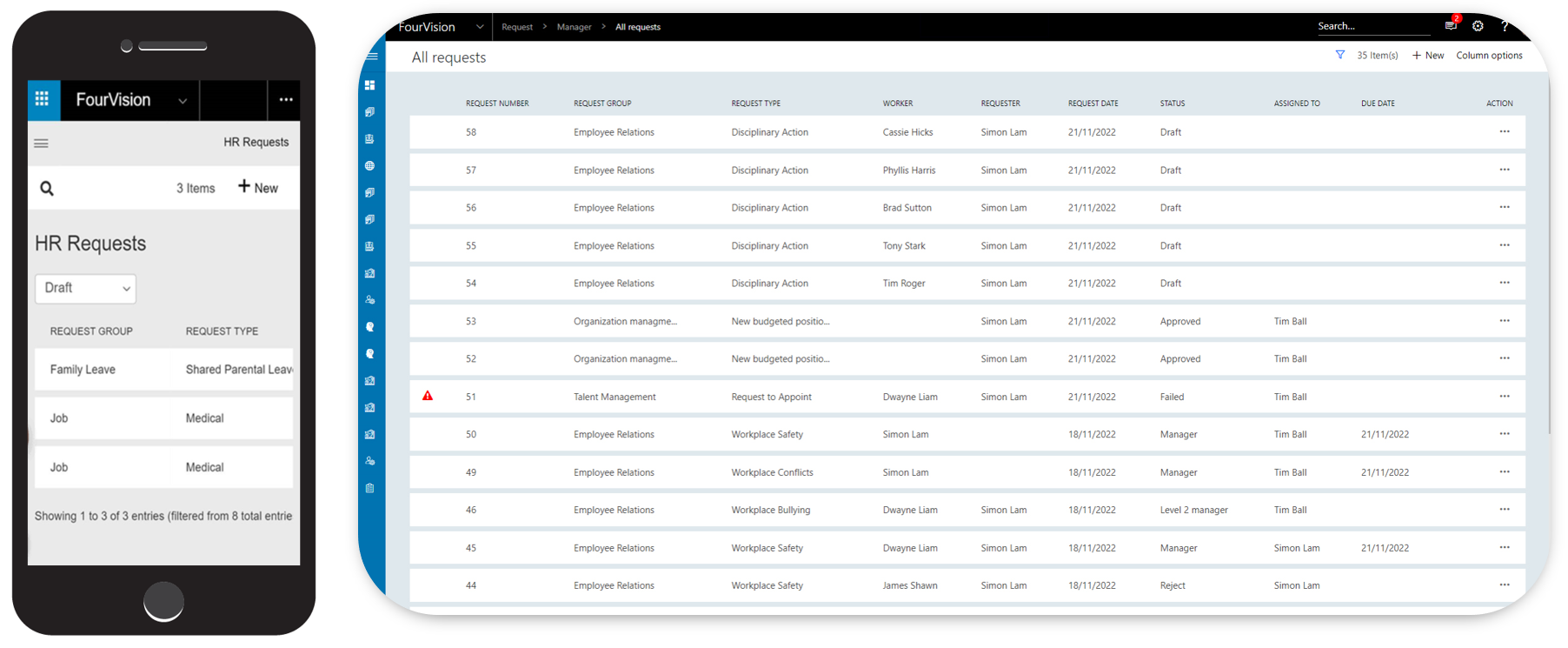 Once the hiring request is submitted, a predefined process automatically kicks off. You can customize the workflow to match your organization's processes. This determines which steps the process follows, and who is responsible for the request at which stages. The tool automatically ensures that the request keeps moving through the process, which saves you from having to follow it manually or chase up on approvals or missing documents.
Here is what a common hiring request workflow looks like:
3. Payroll administration
Most HR teams that use Dynamics 365 also use a separate system or provider to handle payroll runs. If this is the way your team works, then you know how time-consuming it can be to handle your payroll administration. You've got to make sure all your employee data is mirrored in both your HR and payroll system. You've also got to prepare payroll runs, sometimes even exporting and importing data month by month.
D365 does offer some integrations for major payroll providers, but these are primarily focused on providers from the US. If you're not using one of those suppliers, your options in D365 have always been somewhat limited.
Now, you can add the FourVision Payroll Interface Web App  to your D365 setup. This enables you to integrate any payroll system with Dynamics 365, so your payroll and employee data are always fully in sync.
With the Payroll Interface, you can start all your payroll runs with just one app. It also includes time-saving options like:
Automatically or manually interfacing your payroll system and D365
Configuring form fields, file formats and filters to match the receiving payroll system's requirements
Synchronizing data between D365 and your payroll system based on changes (delta) and/or a daily full data dump
Instead of having to juggle between multiple systems, you can see all your staff's payroll information in one clear overview: