Dynamics 365 Human Resources (HR) uses a different infrastructure than Finance & Operations (F&O). Currently, Microsoft is bringing HR functionalities into F&O. Are you using any applications from Dynamics 365 HR? Read on to learn more and get your business ready for this merge.
What is the key benefit?
This infrastructure merge will insure consistency between different applications within HR and F&O modules in terms of Application Lifecycle Management (ALM), Microsoft Dynamics Lifecycle Services (LCS), geographic availability, extensibility, and more. It will allow better customization and enable business to benefit from shared services and tools. This means you can streamline and scale your processes in a more seamless and cost-efficient way.
What does this merge practically mean?
Dynamics 365 HR ends as a standalone SaaS application.
The HR module becomes part of the F&O ERP system.
HR applications are embedded via feature management.
Within F&O, there comes a split between Human Resources and Organizational Management.
There is no significant difference in functionality, all changes on the user side are cosmetic.
All upcoming HR updates and new functionalities will be added to the F&O infrastructure.
Integrations (for examples, with ATS) that are not migrated to the merged infrastructure should be analyzed and reconnected/updated based on this merge.
Customers that are already running Dynamics 365 F&O might need to consider consolidation of the two systems on data.
If you use Dynamics 365 HR and want to ensure your HR operations continue running smoothly, you must migrate them to Dynamics 365 F&O.
How can we help?
As a long-term Microsoft partner for Human Resources, FourVision is fully equipped to support you in this infrastructure challenge. We can help you migrate and streamline your integrations with Dynamics 365 F&O and insure data consolidation. If you have any questions about going about this merge, contact our experts. We are active in EMEA, North America & APAC with many successful cases of implementing Dynamics 365 Human Resources.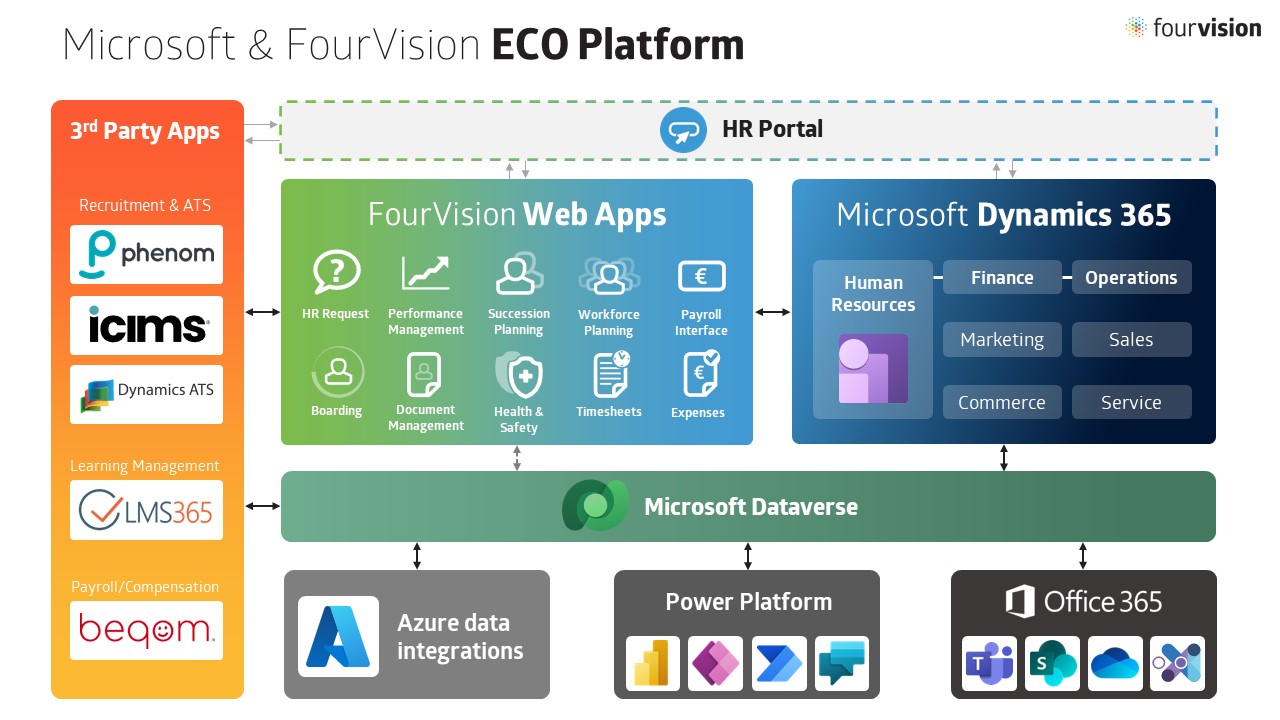 How do we add extra value to the standard Dynamics 365 solution?
We can extend the functionality of Microsoft Dynamics 365 with our own Web Aps for various HR processes such as Onboarding, Payroll, Performance Management, and more. These web apps are built specifically for the Microsoft infrastructure, and they can be easily connected to the HR module of F&O.
Contact FourVision
We are here to support your business in the digital transformation of HR. Every customer is unique and requires a different merge strategy. So contact us to discuss your challenge!