In times of high economic growth, companies can find it hard to fill their vacancies. With more vacancies than unemployed people, your organization may have a hard time attracting new employees. That is why your organization always needs to be on top of the game so you stand out against your competitors.
One way to attract new employees is by using LinkedIn. Just like other social media like Facebook and Instagram, you can segment well so your post will only reach those that perfectly fit the job requirements of your vacancy. One important benefit of LinkedIn recruiting is the fact that LinkedIn has over 722 million users worldwide. The USA by itself has over 174 million LinkedIn members. More users generally mean a larger target group which can result in more fitting candidates. In this article, we explain to you in 5 steps the best way to recruit employees off LinkedIn.
Step 1: The basics
First off, you need to be sure you have a solid base to start from. Be sure your company has an active LinkedIn page with high activity and make sure your employees like your LinkedIn page so your posts will reach more people. The next step is to systematically post relevant content for both your customer and employee target group. We recommend you post updates two to four times a week. Since it can be very hard to come up with content that often, you can make yourself a content calendar so you can always post updates.
Step 2: What is your recruitment budget?
Before you start recruiting, you need to decide how much money you want to spend. LinkedIn has a special feature called LinkedIn Recruiter. If you want to get the most out of your recruiting experience, we recommend you to buy this feature. The 'Lite' version will cost you around 100 dollars per month, the corporate version will cost you 825 dollars per month. You can also recruit without paying money for LinkedIn Recruiter, but this will dramatically impact your results.
Step 3: Start recruiting
LinkedIn Recruiter contains options to search for the right candidates. To get the best results, fill in your preferred job title, location, and education. You can specify even further with skills and past employers. You can add 20+ search filters to further specify your candidate search.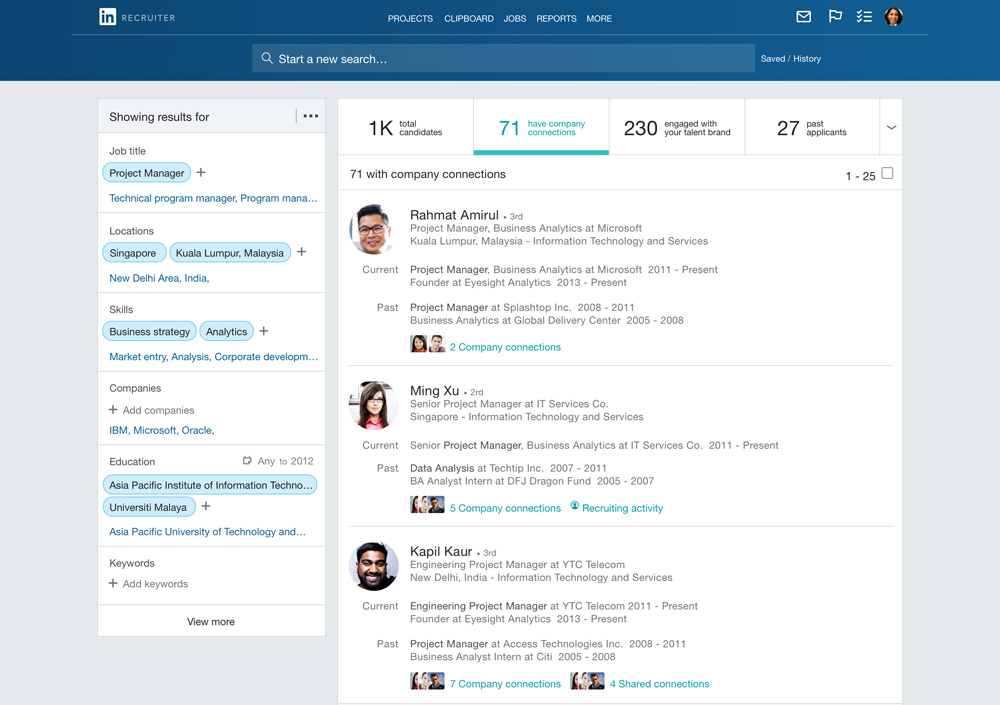 Next to LinkedIn Recruiter, we suggest you post the jobs within applicable groups via a regular status update. If you want to get the most out of this experience, you can also promote this post so your vacancy will appear in 'Jobs you may be interested in' on the timeline of your target group. To get maximal results, try to encourage your employees to help you with finding candidates by sharing your LinkedIn posts.
Step 4: Get in contact
Once you find the ideal profiles you can click to view their full profile. If you're still convinced, you can send them a message via LinkedIn InMail, LinkedIns' version of private messages. After several messages, invite them to a job interview and pick the right candidate. Simple as that.
Step 5: Stay one step ahead of your competitors
Since competition is fierce, you need to stay on top of your competitors. Chances are, the candidates you're pursuing are also being contacted by other recruiters. If your organization is using Dynamics 365 HR software, you can easily set up 'Attract' to manage candidate pipelines more effectively. Click here for more information on Attract for Dynamics 365 HR (previously known as Dynamics 365 for Talent). For more information about HR processes, you can contact us via our live chat on the bottom right of your screen.