HR paperwork is actually becoming entirely paperless, with contracts being signed digitally and agreements/resignations/promotions arranged via email. But are organizations well-equipped to store and maintain all these documents in one digital location? Discover how you can streamline your HR document management remotely.  
Old-fashion HR document management 
Reliance on admin skills.

If you're lucky, your HR admin has great skills and time to update documents, share them with relevant stakeholders and more. But even then, especially as your business scales, your HR admin might make mistakes.

 

Access issues.

With GDPR compliance, this becomes a struggle. Manually verifying who can get access to what sort of information can consume a lot of time. Why not automate that?

 

Storage issues.

This touches upon your data security. What if something happens to your HR admin account? Document copies, anybody? Having a cloud-based storage system is much more reliable in the long run. 

 
Cloud-based  
Having a reliable cloud-based HR document management software is a must for remote or hybrid organizations. It solves most of the issues of the old-school HR document management. In this setup, employees can update their documents and manager can review them at any given time. All of it in one online location! This means:  
Lower reliance on admin skills.

 

Access issues eliminated.

 

Storage issues eliminated.

 
HR document management for Dynamics 365 
You can integrate digital document management into your core Dynamics 365 with FourVision's Web App. Here's are its main benefits: 
Get one central location to store all HR-related documentation

 

Store all documentation by specified categories

 

Create configurable templates and documents

 

Receive notifications of document expiration dates

 

Access both on desktop and mobile

 

Be GDPR compliant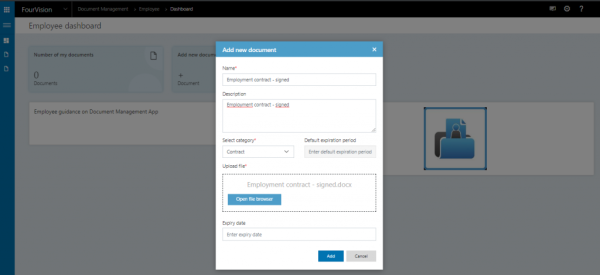 Curious about what our Web App can provide for your remote/hybrid business? Learn more about Document Management Web App and request your demo today.