If you work for one of the 4,000+ companies around the world currently using iCIMS Talent Cloud, then you know what a valuable hiring and applicant management tool this software is. At the same time, you're probably also using Microsoft Dynamics 365 F&O/HR in your day-to-day work as an HR professional.
Many HR teams use these two systems side-by-side, but lack the ability to automatically synchronize them. After hiring a new employee, applicant data captured in iCIMS Talent Cloud has to be manually entered into the new employee's file in Microsoft Dynamics. You can't update both systems simultaneously if you want to change an employee's data (for example, during an internal promotion procedure).
As a strategic partner to iCIMS and a Microsoft Gold Partner, FourVision has worked alongside both companies to develop the new Human Capital Management (HCM) Connector. This new tool, which is part of the FourVision HR Request app, gives you a single interface for managing applicant data and documents and automatically synchronizing your iCIMS Talent Cloud and Microsoft Dynamics systems. In this article, we walk you through how the new tool was built and what it can do to lighten your HR team's workload.
How was the FourVision HCM Connector developed?
FourVision's goal is to provide end-to-end HR solutions for our customers. We do this by enabling them to link key software tools and use them more efficiently. That means creating seamless connections between systems, and building easy-to-use interfaces, where multiple systems can be managed simultaneously.
"iCIMS Talent Cloud and Microsoft Dynamics F&O are both extremely popular systems in the HR world. We knew that a lot of companies would benefit from having a seamless link between those two systems," says Menno Smits, HR Solution Architect at FourVision.
"Our HR Request web app provided a good foundation for creating that link, because it has a built-in integration framework that allows it to send messages and share data. So, if you change any job requisition or employee data in the HR Request app, for example, it can send messages to notify and provide updated data to other systems, like iCIMS," he adds.
"Any time you complete a process in the HR Request app, like changing a job description or creating a job requisition, HR Request knows to trigger an integration, and if it's too technical, the integration will be triggered by an Azure logic app that handles the messaging. We don't go into the frameworks of Dynamics to trigger the integration, but use our own framework to trigger the integration via HR Request," explains Julia Caruana, Senior D365HR Implementation Consultant at FourVision.
"The HCM Connector is designed to be very flexible. If you're just working with standard fields in iCIMS or F&O, then the Connector will retrieve and send those fields back and forth between the two systems. If you want to create customized fields, like a certain employee classification, you don't have to do it via F&O, you can just do it in the HR Request app. The integration framework will pick up that field and send it along with the rest of the data," adds Menno.
What are the benefits of the FourVision HCM Connector?
The FourVision HCM Connector makes HR's work easier by linking iCIMS Talent Cloud with Microsoft Dynamics 365 F&O. The key benefits of the tool are:
Simplified workflows for job requisitions: The hiring manager submits their job requisition via the HR Request app. The HCM connector triggers the automated job requisition workflow in iCIMS Talent Cloud.
Simplified hiring via standard workflows: The HCM Connector supports automated hiring workflows that keep the application process moving.
Event based and supported by logic apps: Automated workflows are triggered based on input from HR, hiring managers, candidates and new hires. This includes complex tasks that are handled by Azure logic apps also integrated by FourVision.
One single form for enriching data: Data automatically synchronizes in iCIMS and Microsoft Dynamics.
Custom fields: Full flexibility to support custom fields that are missing from the standard iCIMS and Microsoft Dynamics configurations.
Simplified rehire/staff transfer: Automated workflows for handling internal promotions and updating employee records after a job change.
API-driven document management: Transfer applicant and employee documents securely and automatically.
How does the HCM Connector work?
The process starts when a hiring manager submits a new job requisition via the FourVision HR Request web app, which is seamlessly integrated into the Microsoft Dynamics 365 F&O environment: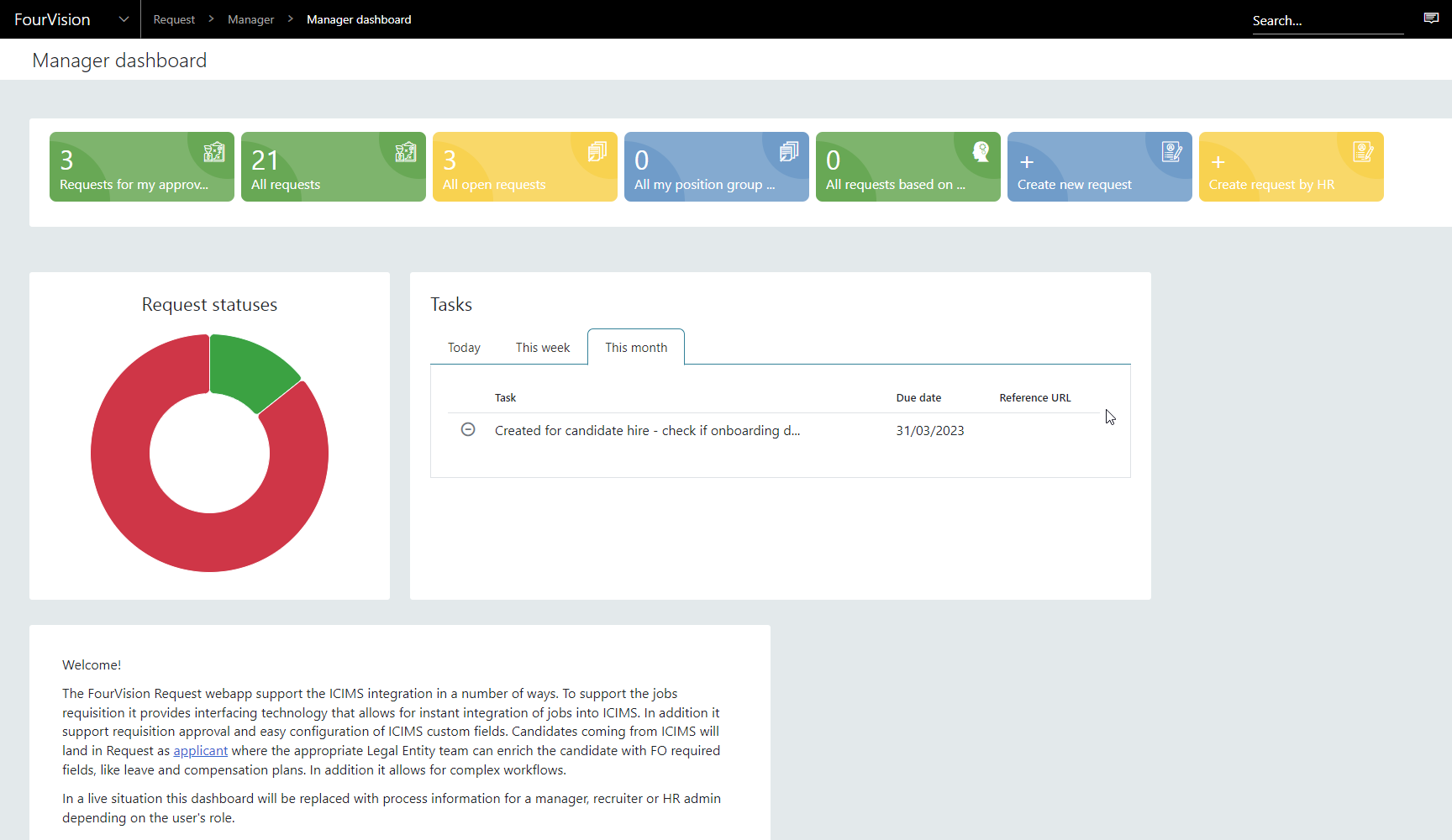 The HR Request web app gives managers and HR an overview of all ongoing job requisitions. Once the requisition is submitted, it automatically enters HR's requisition approval workflow. HR is notified to review and approve the requisition: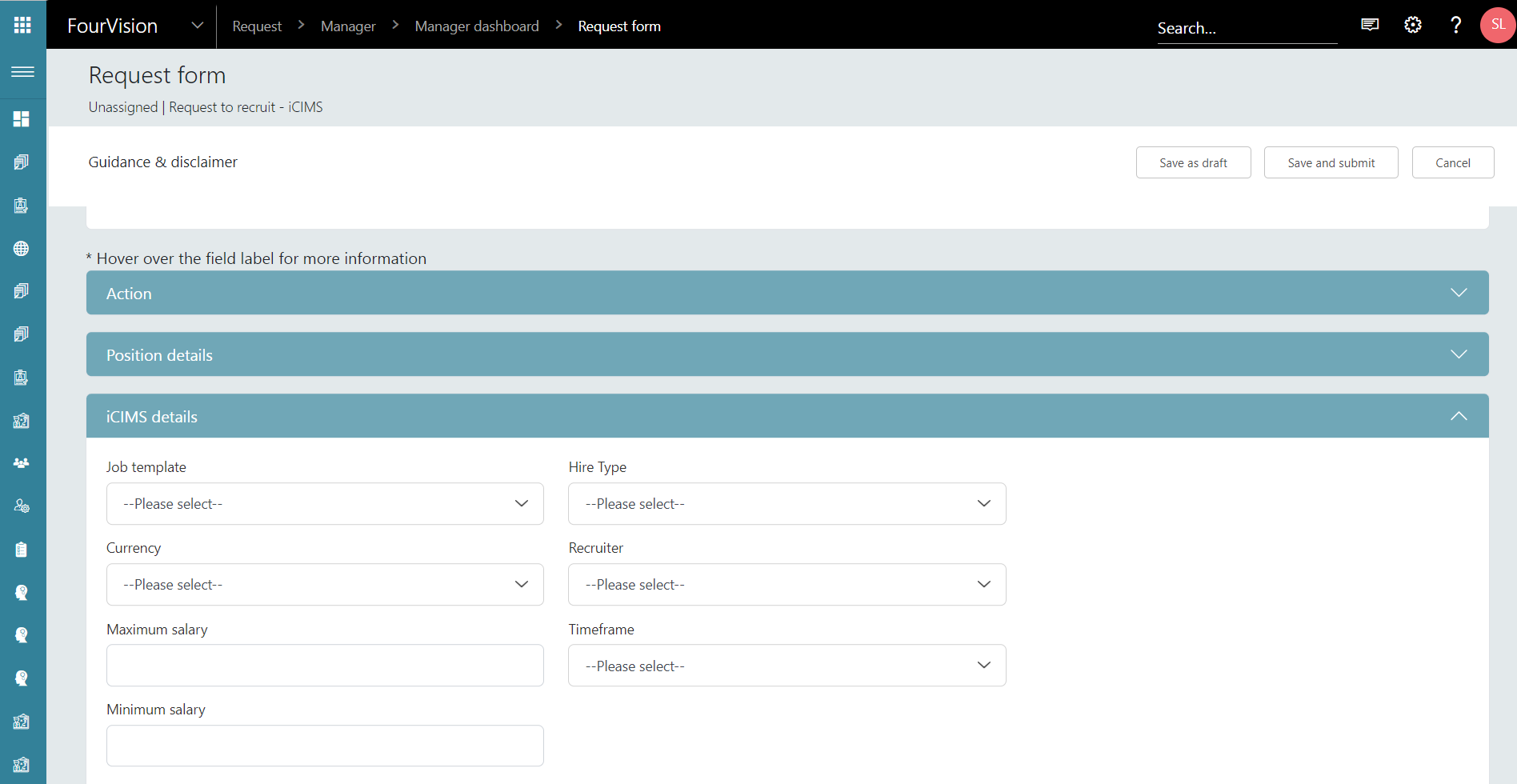 Once approval is granted, the HCM Connector automatically triggers the job creation and hiring process in iCIMS Talent Cloud: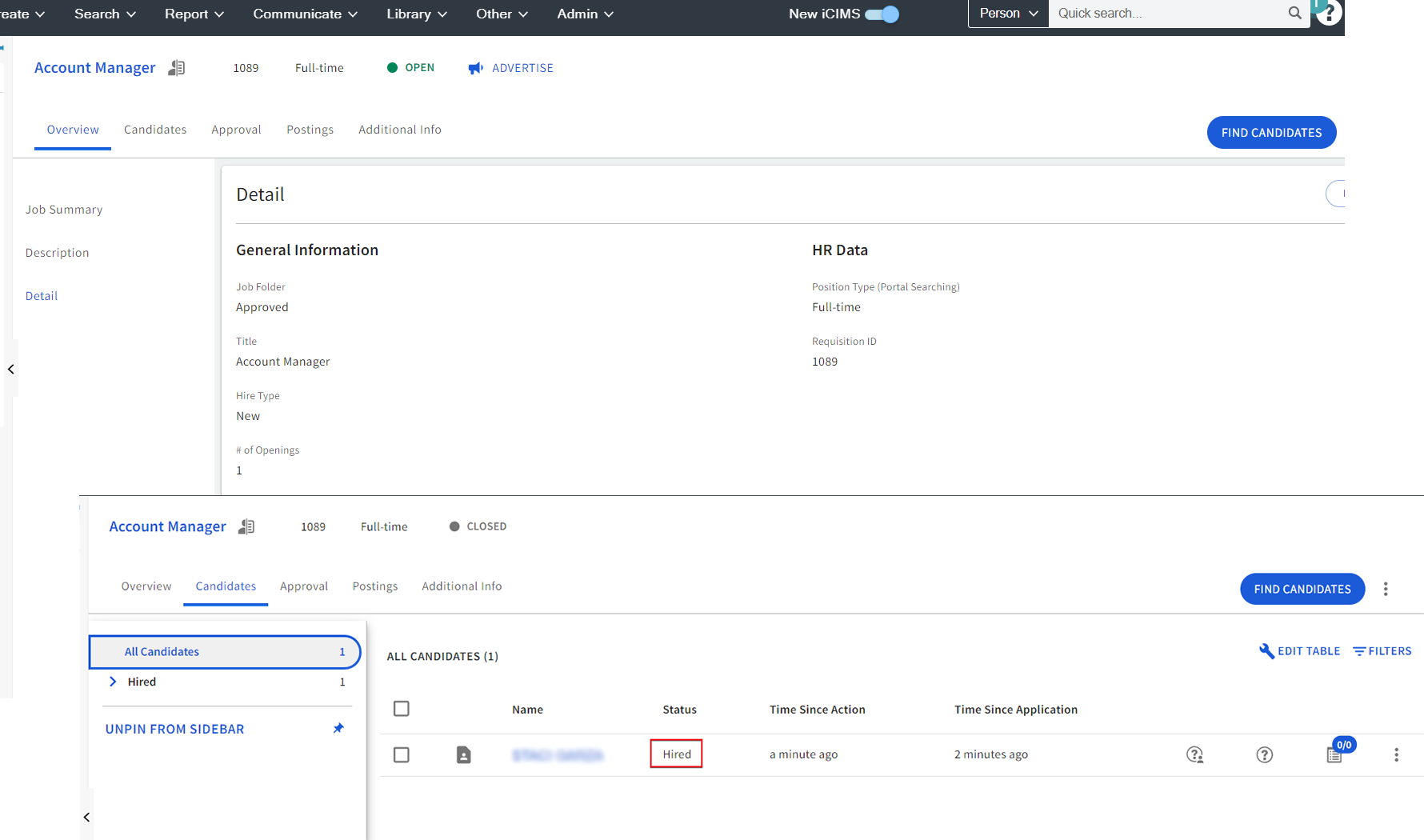 Once the candidate is hired, their additional employee data is captured by HR in iCIMS: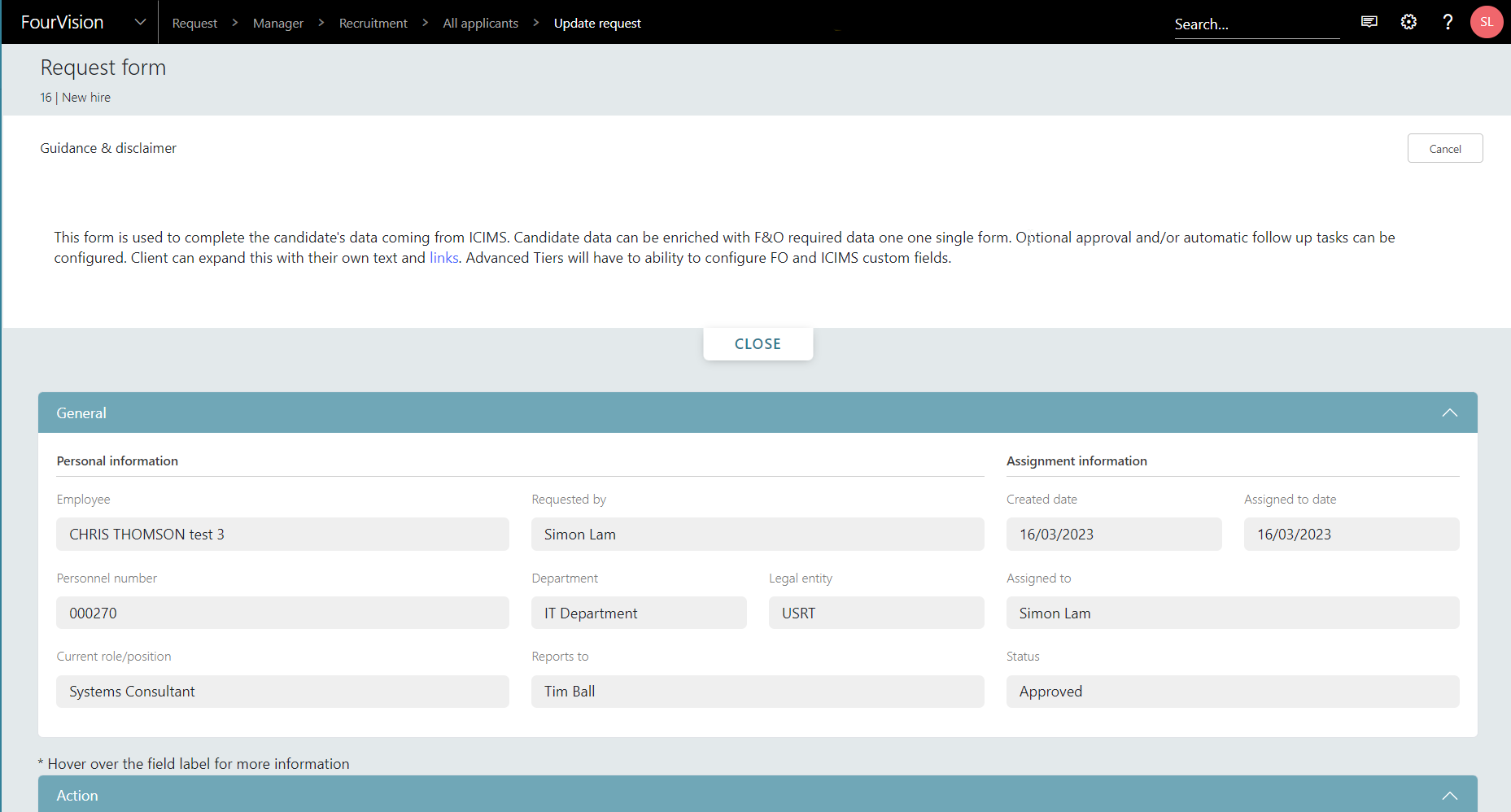 During the hiring process, you can fine-tune and reduce the number of headers used in the form, depending on your needs. You can also choose to only show data relevant to the approver to whom an approval task is assigned. And you can send out a set number of tasks by emails to the relevant approvers.
With a single form, you can enter all data relevant to the candidate/new hire. The form's fields are customizable and the data captured automatically syncs in iCIMS and Microsoft Dynamics. Here's what the single form interface in the HCM Connector looks like: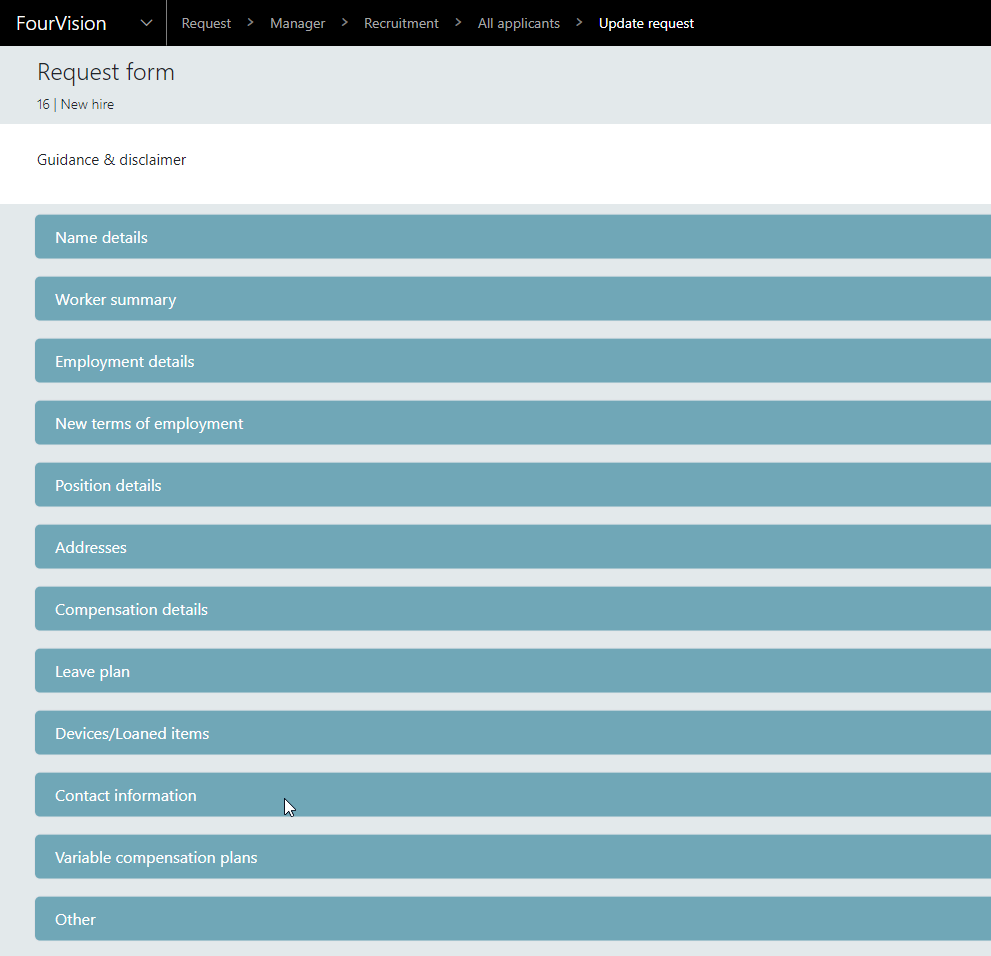 After the form is completed, the HCM Connector automatically sets up and fills out a new employee file in Microsoft Dynamics 365 F&O for the new hire: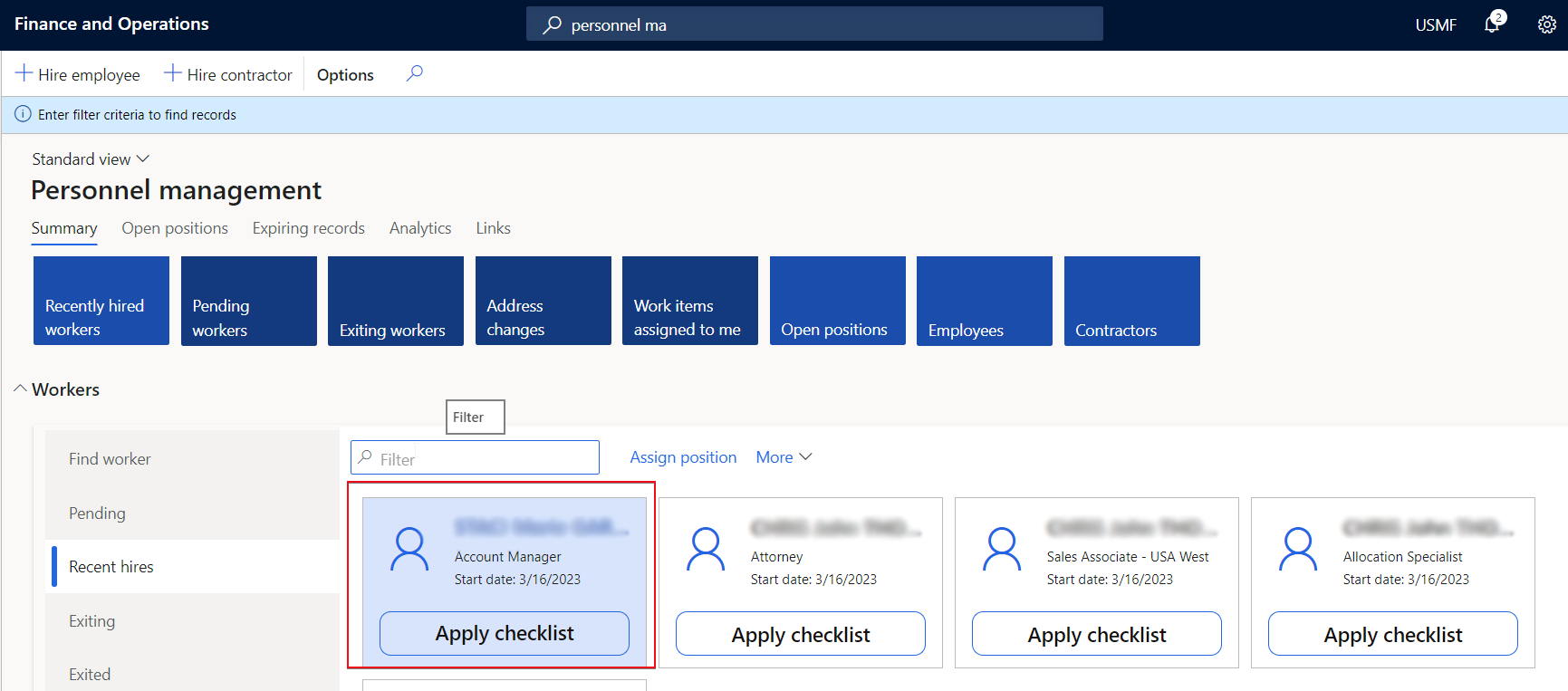 The automated, event-based workflows and single interface save time, hassle and manual data entry. That makes life easier for HR and hiring managers, while also helping ensure the best possible applicant and new-hire experience.