In today's virtual and hybrid work environment, HR teams need innovative solutions to keep employees engaged. That's why Microsoft launched Viva in 2021. This set of applications helps HR enhance the employee experience and boost engagement every time an employee logs in to their workstation, whether at home or in the office. Below, we explore some of the ways Microsoft Viva fits into your company's end-to-end HR approach.
What is Microsoft Viva?
Microsoft Viva is a set of applications that are built into Microsoft Teams. Since the rise of remote work, Microsoft Teams has become the go-to collaboration and communication tool for teams around the world. Today, it has over 280 million active daily users. Microsoft incorporated Viva into Teams to help overcome the challenge of keeping employees engaged, especially when working remotely.
Viva is still being expanded to include new applications. It already includes useful tools like these:
Viva Connections: Within Teams, Viva Connections gives employees easy access to internal communications and company resources from SharePoint.
Viva Topics: Powered by AI, Viva Topics lets employees search for relevant content from SharePoint within the apps they use every day.
Viva Learning: With Viva Learning, you provide employees with an online learning experience that is automatically curated to match their learning experience and needs. The content is collected automatically from your company's learning platform (such as LMS365, Pluralsight, Coursera or LinkedIn Learning).
Viva Insights: This app analyzes employee's everyday activities to help provide data-driven insights into how they're spending their time, and how they can manage their tasks more effectively. It also provides insights into their performance, learning and development and more.
Viva Engage: With Viva Engage, you offer your employees a social-engagement app that lets them keep in touch, exchange information and connect with their peers on a personal level.
Since Viva apps are seamlessly integrated into the employee's virtual workplace, they promote real-time learning and engagement. Employees have access to the resources, support and social interaction they need, whenever they need it.
How can Microsoft Viva boost engagement among your workforce?
To give you an idea of how Microsoft Viva can improve your employees' remote work experience, here are a few use case examples:
Learning and development
Instead of siloing L&D off from the employee's everyday experience, now you can fully embed it into every aspect of the work day. Viva Learning is always just a click away. Here, employees will find the training programs, courses and certifications that are automatically selected to match their needs. The content and resources are collected from your LMS, such as LMS365, which is seamlessly integrated with SharePoint. Plus, Viva Insights automatically tracks employees' L&D performance and identifies areas for improvement.
Providing HR information
Viva Connections feeds news posts and notifications from HR from SharePoint directly into Teams. FourVision has also built an internal HR Center that gives employees a quick overview of all relevant HR topics and information, written and curated by your HR team. The information is managed in SharePoint and fed into the HR Center by Viva Connections.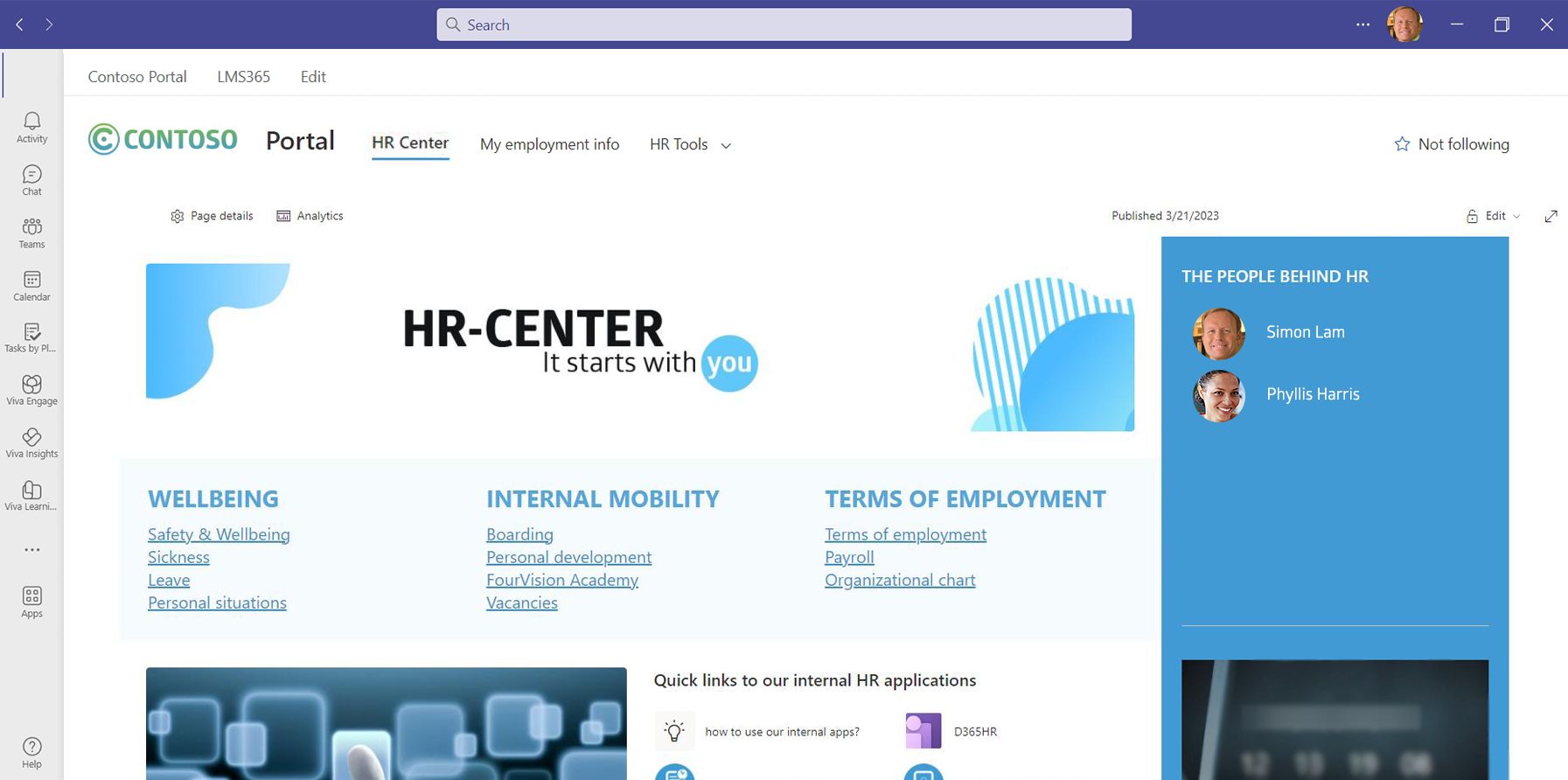 Onboarding
Viva Connections also lets you create personalized onboarding experiences for new employees. This includes sharing important information about your company's culture, policies, benefits and more. It is conveniently embedded into Teams along with the FourVision Onboarding app, bringing all your onboarding resources into a single, easily accessible location.
Social engagement
Maintaining social engagement among employees is vital to creating a positive workplace experience. Yet many companies struggle to keep employees socially engaged in remote-work settings. Viva Engage (formerly Yammer) serves as an internal social media network. Your HR team can use it to share information, conduct polling and announce upcoming events and activities.
Engagement starts with a seamless employee experience
When working from home, employees can easily feel isolated and out of touch with your company's culture. It's more important than ever for HR to reach out to employees in ways that are visible and impactful. That's one of the key benefits of Viva: since it's built into MS Teams, it gives HR a powerful tool for interacting with employees within an app that they're using frequently throughout their work day.
FourVision helps create an even more seamless experience, making sure that HR is incorporated into every aspect of the employee experience. For example, we can integrate bots with Microsoft Power Automate that let employees send Timesheets notifications or approval requests via a Microsoft Teams chat. End-to-end HR solutions like these help you keep your employees in the loop while also streamlining your HR team's operations.