Nobody likes admin work. Your employees hate it, and your HR and audit teams have more important things to focus on than whether submitted timesheets have been filled out correctly.
If as an organization you're still relying on Excel spreadsheets and manual time reporting from employees, you need to think about what this might be costing you.
Avoidable time reporting mistakes, inaccurate invoices that make for awkward conversations with clients, and compliance issues are just a few of the problems that can arise because of your organization using outdated time reporting processes and systems that aren't fit for purpose.
This is especially relevant nowadays where processes like time tracking can easily be automated with the right software and tooling, such as Microsoft Teams and an embeddable timesheets solution such as the FourVision Timesheets Web App, which can be used directly from within Teams.
If you're reading this and thinking, "This sounds like us…" then you need to consider the other options that are available to you.
Timesheets in Microsoft Teams
To help organizations overcome time tracking challenges, FourVision has developed a dedicated time tracking solution for the Microsoft Dynamics F&O-HR platform.
The Timesheets Web App can be embedded directly into Microsoft Teams, giving organizations that use Teams as their primary communication platform the ability to enable time tracking and management from within the same ecosystem.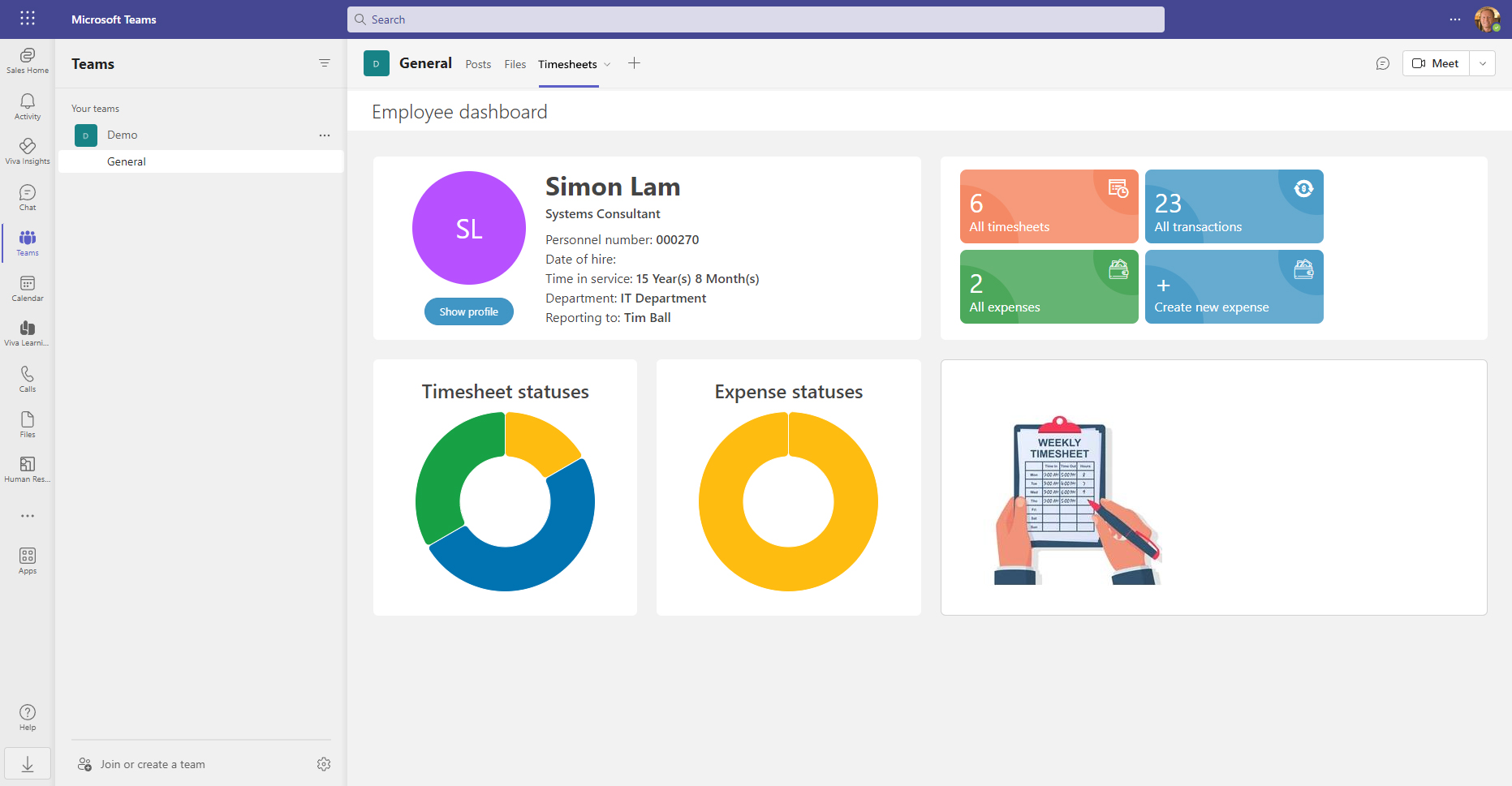 Timesheets also integrates directly into Dynamics 365 and Power BI to give organizations the freedom and flexibility to reinvent the way they collect, track, and analyze employee timesheet information.
Timesheet reminders via Microsoft Teams chat
FourVision can help you set up Timesheet reminders in Microsoft Teams via messages. This automated functionality is incredibly useful for both employees and managers.
By reminding employees to submit their timesheets for the week, teams can avoid delays and ensure that, for example, billing is processed on time.
Managers also get information via Teams of their own team's status and reminders to approve timesheets that were submitted.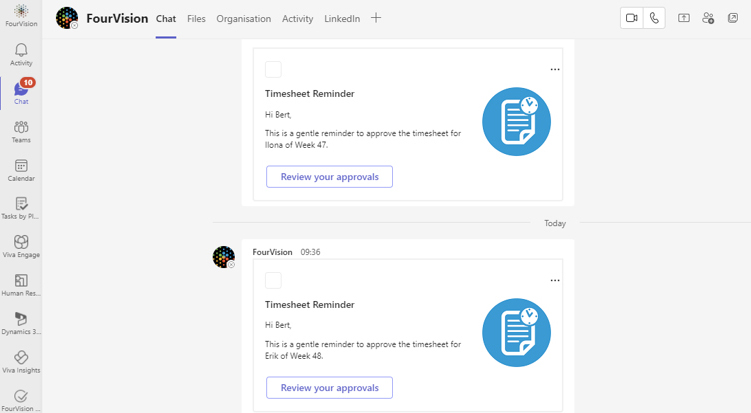 Timesheets' key features:
Easy internal and external time tracking.
Automated reminders for employees and managers
Real-time analytics with Power BI.
Full integration with Dynamics 365.
Employee lifecycle support.
Accessible on desktop and mobile.
Request your free custom demonstration today to find out how FourVision can streamline your employee time management.