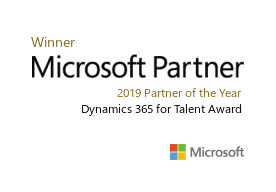 Established in 2004, we were the first Microsoft partner focused on the HRM module of Dynamics 365. We continue to work hard and dedicate ourselves to providing you with the best possible solutions to make the lives of your workforce easier.​
We are a certified and recognized implementation partner for Microsoft Dynamics 365 and always strive to support your digital HCM transformation to the best of our abilities. Limiting any inconveniences to your daily work activities. As a trusted Microsoft partner, we are part of the early adopter program which means we are involved in any new Dynamics 365 releases from the start.​
Our hard work earned us the Gold Certified Partner status in the Microsoft Partner Program in 2018. We are proud to be recognized for our competency in secure cloud productivity, and general expertise and impact in the Human Resources technological market sphere.​
We are proud to be the winner of the 2019 Microsoft Dynamics 365 for Talent Partner of the Year Award. We are grateful that this award acknowledges our passion to design innovative HR solutions by combining Microsoft Dynamics 365 Human Resources and FourVision Web Apps. Read more about it here.